Nov. 9 Practice Report – Moose Regroup For Rematch
By: Mitch Peacock | Published: November 9th 2018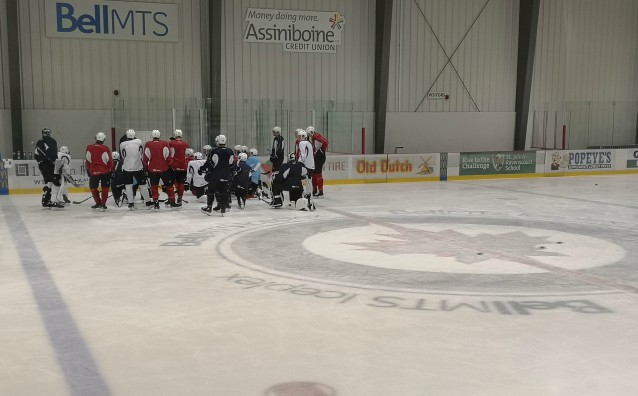 How quickly things can change in the world of pro hockey.  Not long ago, the Manitoba Moose owned a three-game win streak and were just settling into a home stand.
This afternoon the team held a spirited 40-minute skate at Bell MTS Icelex having dropped two in-a-row, and looked hungry to get back in the win column at Bell MTS Place on Saturday.
The second of those two setbacks came last night in a 4-1 loss to the Grand Rapids Griffins.  Post-game, head coach Pascal Vincent left little doubt as to the areas for improvement when the teams meet again downtown tomorrow.
"I thought the first period was good – second period I didn't like the way we managed the puck. I didn't like the way we moved. I didn't like the way we supported the puck. So, to me the first period was a good period for us and then the second there was a momentum switch and we didn't recover in the third."
Manitoba had strung together impressive showings in beating Rockford, Milwaukee, and Chicago before losing the series finale against the Wolves last Saturday.
Despite the losses, the Moose are at 6-6-0-0 through the first dozen games of the season, including 4-3-0-0 on home ice.
Eric Comrie returned from accompanying the Jets to Finland to impress in the Manitoba net.  He made 35 saves to keep the Moose in the hunt for the two points against Grand Rapids a night ago.
Also memorable, Jets' first rounder Logan Stanley scored his first pro goal but while happy about the milestone, he was thinking about the team and how to get back on track post-game.
"I just think we were a little complacent, a little bit sloppy in our own end – and then we weren't really supporting the puck too well. Too many turnovers and I think we just got to be hungrier on the forecheck and try and recover some pucks."
Manitoba and Grand Rapids play again tomorrow evening at 6 p.m. on Retro Jersey Night at Bell MTS Place as the team pays tribute to the final editions of the club from the 1.0 era.
Tickets are still available at moosehockey.com/tickets, and Saturday's contest is the last home game for the Moose before four on the road.