Oct. 10 Practice Report
By: Mitch Peacock | Published: October 10th 2018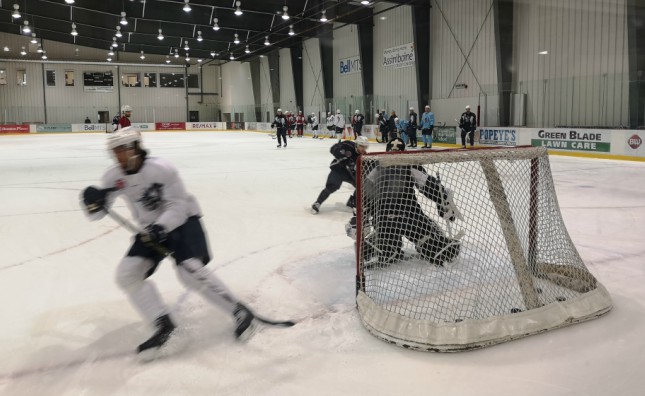 Two games into a new season, the Manitoba Moose are making the most of their practice time this week.
After a pair of weekend defeats in Iowa against the Wild, the Winnipeg Jets' American Hockey League outfit has returned to practice with real purpose about it.  With the home opener Friday against the Belleville Senators (7 p.m. CT – Bell MTS Place), they have a short term deadline for making strides.
There are a lot of new faces in the group, but defenceman Tucker Poolman says sometimes you can't wait to get to know each other before pushing for results.
"Sometimes, you know, it's not popular – you know you just want to fit in and do something, but that might not be conducive to winning hockey games," said the second year pro who admitted to being quiet as a younger player. "Sometimes you might need to say something you might not (normally) to someone you don't know or things like that – little part of that (with the team right now) – but I think mostly just being more intense and skating harder."
Poolman has one assist in two appearances since joining the Moose at the end of Jets' camp.
Offence has been hard to find for the Moose so far with two goals in 120 minutes, and a power play that has yet to score in nine opportunities.
Time spent on generating chances five-on-five, and with the extra skater, in practice is boosting confidence things will start to turn around as early as Friday against the Ottawa Senators' AHL affiliate.
You could say scoring goals is partly about having the right mindset.
"Using the term mindset is good," said assistant coach Marty Johnston after today's skate. "After two goals in two games, we want to make sure we get to the net and play fast.  I think Pascal did a great job messaging that to the team, and we did that on both days of practice so far this week.  So hopefully that results in more goals for us, and more (offensive) zone time and I'm sure it will based on the effort the players put in."
Belleville is 0-1-0-0 after a 3-1 loss in Utica opening weekend.  The Sens have a new coaching staff led by ex-Hershey bench boss Troy Mann, and the roster boasts a number of talented prospects.  That group includes 2015 second round pick Filip Chlapik, who had 31 points as an AHL rookie last season.
The Moose were 2-0-1-1 against Belleville last season but collected both of their wins in Ontario.
Tickets for Friday night's 2018 Home Opener are available at moosehockey.com/tickets.