Oct 11 Practice Report
By: Mitch Peacock | Published: October 11th 2018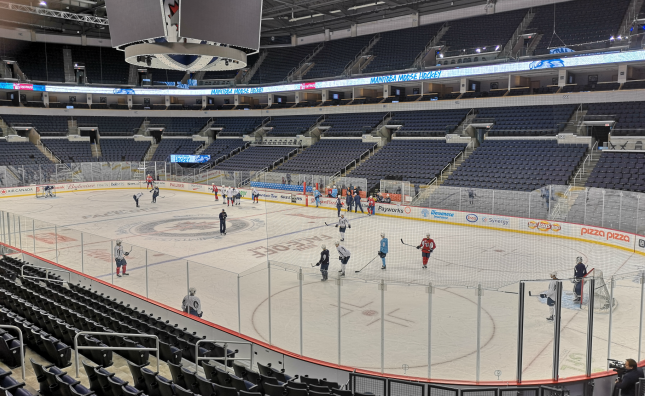 The Manitoba Moose open their home schedule Friday night at Bell MTS Place, and a big crowd is expected. Most years that's all anyone would be talking about ahead of such a special occasion, but this year is a bit different.
This morning the Jets' American Hockey League club announced the three players that will form the core of its leadership group for the new season, a trio that includes a brand new captain.
Winnipegger Peter Stoykewych was informed by head coach Pascal Vincent a few days ago he'd be that player, but the appointment was made public today.
"It's exciting," said the former MJHL Winnipeg South Blue after today's practice downtown. "Obviously my upbringing here in the city, and being around the organization for the past several years here, I've kinda grown accustomed to the culture and what's expected around here. I just want to be able to continue on what we've started to build here in the past several years."
JC Lipon, now in his sixth year in the organization, and Cameron Schilling, in his eighth year as a professional, will wear "A's" on their jerseys to round out the appointees.
Stoykewych, who replaces two-year captain Patrice Cormier (now playing in the KHL), is the second hometown player to wear the "C".  He joins three-time Stanley Cup champion Mike Keane, who is now in player development with the Jets.
"It's humbling to hear some of the names that have been captain here before and Keaner, obviously we have a relationship, and I'm going to need him as well here.  That's something that I'll use as an asset obviously to me in this position," said the ex-Colorado College captain. "But, having guys like Keaner around, and Corms (Cormier) on speed dial there, that'll be huge for me –  even Pascal (Vincent) and  Marty and Dubie (assistant coaches Johnston and Dubois) they'll help me as well along the way."
Stoykewych, who never dreamed of being in this position when he'd come and watch Moose games as a kid, is in his fourth season with the Moose and is fresh off of a year in which he set personal highs in goals (9), assists (18), and points (27).
"He's a very smart kid. He could feel the room. He could feel the bench – whether it's momentum or whether we're down on ourselves and things like that.  He's got a good feel for the players," said Dubois when asked why Stoykewych was the right choice. "His work ethic is really good as well. He's willing to put in a lot of time to get better, so he's a good example for the younger kids."
Meanwhile, Dubois and the coaching staff switched gears for today's practice at Bell MTS Place – the first one downtown of the new season – concentrating much of the session on systems work and getting reps for the special teams ahead of tomorrow's home opener.
"It (that type of practice) is important, especially with the fact we didn't have any exhibition games," added Dubois. "We could tell last weekend there was a lot of things we need to clean up – especially in the neutral zone."
The Moose (0-2-0-0) host the Belleville Senators (0-1-0-0) tomorrow night at  7 p.m. CT with both teams in search of their first win of the young season.  Tickets for the matchup are available at moosehockey.com/tickets.