Oct. 15 Practice Report
By: Mitch Peacock | Published: October 15th 2018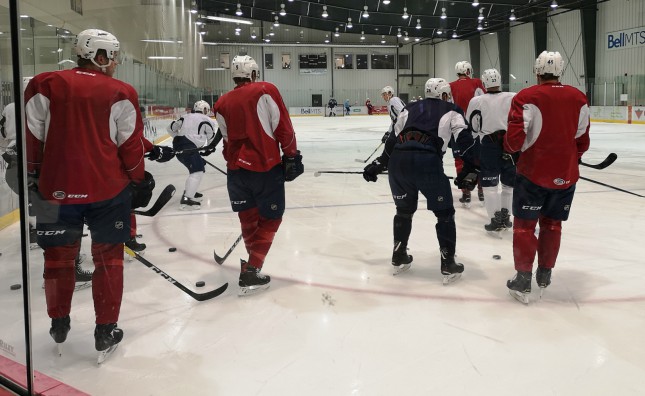 Between the guys who are new to the organization, and the guys who are new to pro hockey altogether, there's plenty of 'new' to go around with the Manitoba Moose this season.
By my count, 14 of the 26 players on the roster today fall into one of the two categories.
Yes, change is a constant in the American Hockey League, but over 50 per cent of the roster is significant
So it stands to reason it will take a little time for the 2018-19 Moose to gel. This past weekend there were signs of progress during a split of their home opening set with the Belleville Senators.
It started with a hard-fought 2-1 victory, only to be followed by a 6-2 loss that was sloppy at times.
"We played a good first game," said veteran Tye McGinn who is new to Manitoba. "It was a tight game the whole way, and we found a way to get the lead in the third period and win the game. Second game wasn't the best of games for us – we got off to a slow start. We had some spurts throughout the game (when) we looked sharp, but we just didn't have a full 60 minute game to come away with the two points."
That's a similar story to the prior weekend when the Moose played a returnee-laden Iowa team.  Manitoba turned in a solid outing to start the series, only to see things get away from them in the rematch.
"It's tough, you know, just figuring out your surroundings and everything, and the new systems.  Especially since I think there's 15 or something new guys.  So just trying to find your way, and what you can bring that will help the team win," said McGinn after a busy morning that included off-ice training. "It's definitely going to take some time, just with all the new faces, but you know you can definitely see the talent throughout the dressing room.  Through the game you see spurts of what the guys are here to do.  It's going to take a little bit, but the guys are working real hard in practice throughout the week and it's going to come."
At 1-3-0-0, the Moose are not happy with the results so far, but believe this new group is on the right track. A track that is founded on work ethic, a commitment to work that is being reinforced daily in practice.
This morning, up-tempo skating with skill development was followed by focused and intense systems work.  A conditioning skate wrapped things up.
"That's the best thing to bring guys together, and the team together – it starts in practice. Our coaches are really working us hard, and we have to embrace it as a professional athlete," added McGinn. "I think everybody in here knows we have a lot of weaknesses in our game right now that we need to improve on.  The only way we're going to improve on it, and become a winning team and organization – it starts in practice and working hard there.
Tye McGinn and the Moose host the San Antonio Rampage Friday at 7 p.m. and Sunday afternoon at 2 p.m..  Those games are the first of 15 consecutive contests against Central Division opponents.  Tickets are available at moosehockey.com/tickets.