PRACTICE REPORT: Moose Prepare For Wild
By: Austin Siragusa | Published: October 15th 2019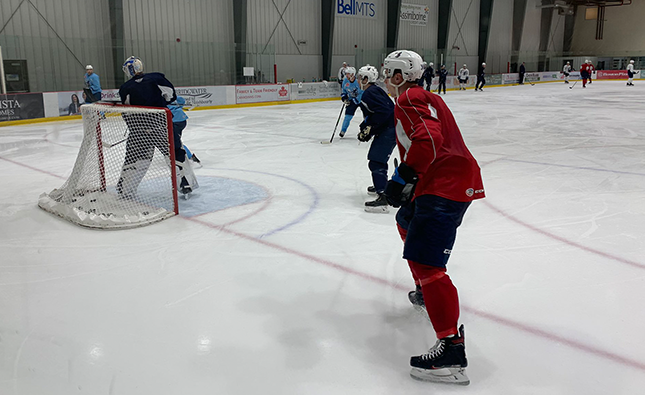 After putting the losses against Toronto in their rear-view, it was back to work for the second of four straight practice days for the Moose at Bell MTS Iceplex.
"It's a long season, those are just two games," said defenceman Cameron Schilling "It's a good team we lost to, it's a good learning lesson especially early in the season."
"Hopefully we can move on and get a couple wins this weekend."
The Moose were held scoreless in their final game against Toronto, but forward Jansen Harkins doesn't think that will carry over into the next two games against Iowa.
"We obviously didn't work as hard as we could've on the weekend," Harkins said. "The coaches obviously know that, they've seen it in video, but I think it was a good pace out there today and they just want to get the most out of us, and that's fair I think we owe it to ourselves to push the pace in practice. "
Iowa comes into Bell MTS Place 2nd in the central division with a 3-0-0-1 record. Manitoba currently sits in seventh place with a 1-3-0-0 record, and will be searching for their first win on home ice Friday.
Defenceman Peter Stoykewych and forward Logan Shaw were both full participants in practice today after missing yesterday's skate. Defenceman Sami Niku did not skate as he is still dealing with a lower-body injury.
The Manitoba Moose play the Iowa Wild in a pair of games on Friday and Saturday. The Moose Halloween Game will be played on Saturday. Fans are encouraged to dress up in costumes and arrive early for pre-game festivities. The first 3,000 fans in attendance at Saturday's game will receive a reusable trick-or-treat bag. Puck drop is scheduled for 6 p.m. CT. Tickets are available at moosehockey.com/tickets.