Oct. 16 Practice Report
By: Mitch Peacock | Published: October 16th 2018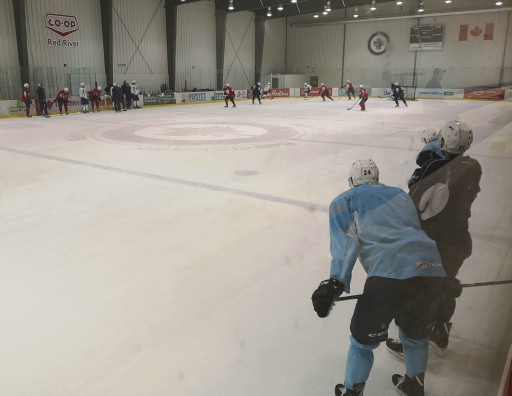 There are a few things you can count on when it comes to life in the American Hockey League – regular roster moves, and a schedule that's lighter before the holiday season than it is after among them.
If you're a regular follower of the Jets' AHL team you probably already know your team often has plenty of practice time during the week, and a couple of games on the weekend in the opening months of the season.
Well this year is no exception, and that's proving to be a good thing for Moose Head Coach Pascal Vincent, assistant coaches Eric Dubois and Marty Johnston, and developmental goalie coach Rick St. Croix.
Why? Because that extra practice time is helping the head coach and his staff get to know a group that includes more players who are new to Winnipeg, or pro hockey itself, than players who have been with the Moose on regular basis before.
Very quickly a routine has emerged out at the team's west end practice facility. Intense and physically demanding practices early in the week, and more systems-oriented preparation as game night approaches. All of that in addition to off-ice conditioning and individual meetings throughout the week, usually built around reviewing video to help players grow within the team environment.
Second-year pro Jansen Harkins is a relative vet with all of the roster turnover from last season, and says he likes what he sees from this bunch so far.
"Good group of guys, I think a lot of older guys again this year coming in and a lot of new guys as well  – just kind of getting to know everyone and getting some chemistry and gelling as a team. I think we've got a good group and it should be a fun year for sure."
In the world of pro hockey "fun" is code for winning, and getting better as players, so Harkins is eager to see the team up the "fun" sooner-than-later.
It's a work-in-progress these early weeks of the season with some line juggling part of the process.
"Chemistry's a big part of hockey, and it's such a fast game out there – especially at this level – and everything's happening fast," said Harkins after today's skate that saw the team chew up one sheet of ice and move to another at Bell MTS Iceplex. "There's not really set plays too much so you kind of have to read off each other so it's definitely a lot better when you know the guys you're playing with."
On a personal level, the Jets' second round pick in 2015 is feeling the benefits of having a year of pro behind him.
"(I'm) definitely feeling a bit more comfortable now, just kind of in terms of playing at this level and getting closer to knowing the city and the ins-and-the-outs of this league and pro hockey's a little bit different than any other level. It's been a good transition so far. It's been pretty tough, but I think I'm coming around the right side of it so I'm feeling good."
That's good news for the Moose who can use a little confidence and experience to help move the team to another level.
Manitoba closes out a four-game home stand with outings against the St. Louis Blues' affiliate, the San Antonio Rampage, Friday night and Sunday afternoon at Bell MTS Place. For ticket information visit moosehockey.com/tickets.