Oct. 17 Practice Report
By: Mitch Peacock | Published: October 17th 2018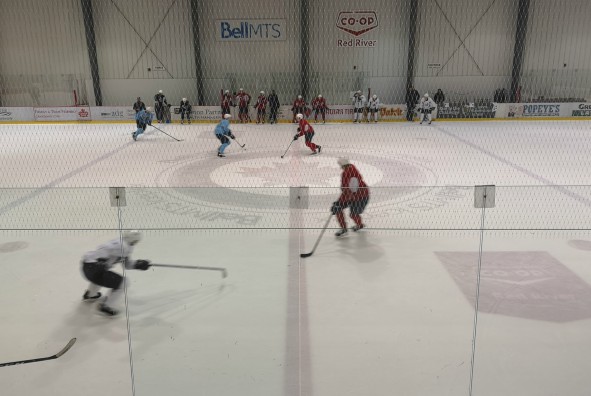 The Manitoba Moose don't play  until Friday night, but their practices have a game-like feel to them these days.
Besides doing a lot of hard skating to take their conditioning to the next level, the Winnipeg Jets' American Hockey League affiliate is consistently replicating game situations to reinforce systems.
Forward Cam Maclise is in his second season with the Moose, and explains why everyone needs to be on the same page.
"It's just a matter of trust on the ice I think," said the Mount Royal University product after today's session. "If you know where the other guy's going to go it makes your job easier – you can be ahead of the play. So, I think that's the biggest thing is it just allows guys to have trust in each other and you can be ahead of the play."
Maclise and his teammates look to follow the Jets' lead and play a fast game.  It's a style not simply about being fleet of foot, but also about being able to attack, or defend, almost instinctively because all of the players on the ice have the same idea of where everyone will be at any given time.
After a weekend split with the Senators' affiliate from Belleville, Manitoba is halfway through a four-game homestand.  Four games in, goals haven't come easy for the Moose who have turned on the red light six times.  But, veteran Seth Griffith is showing signs he's ready to continue the almost point-a-game pace he's become known for at the AHL level.  Griffith was the first star in Friday's home-opening win over Belleville with a goal and an assist.  There's pressure that comes with being an offensive leader, but it's something he's used to.
"You're counted on to do that night-in and night-out, so I try and do that. I try and bring (offence) and you know you're not going to have it every night.  Nobody does.  So I think the important thing is when you don't have those nights, you bring something else to the table," said the 25 year old who impressed with the Jets in training camp. "Whether it's getting pucks in deep, working hard or getting on the forecheck.  That's what I really have to work on when I'm not getting the bounces and stuff like that – making sure I'm doing those things."
The former Bruin, Leaf, Panther and Sabre has 245 points in 253 American Hockey League games, and sits in a four way tie for second in team scoring through four games.  Griffith joins Mason Appleton, Sami Niku, and Cam Schilling on two points – one back of freshman CJ Suess who earned all of his points through goals.
Next up for Manitoba is new Central Division rivals, the San Antonio Rampage, who are in their first season as the AHL affiliate of the St. Louis Blues.
The Moose and Rampage meet Friday night at 7 p.m. and Sunday afternoon at 2 p.m. in what are the first two of 15 consecutive games against divisional opponents.  The stretch is an opportunity for the Moose to put themselves in the playoff mix early-on.
For ticket information visit moosehockey.com/tickets.