Oct.18 Practice Report
By: Mitch Peacock | Published: October 18th 2018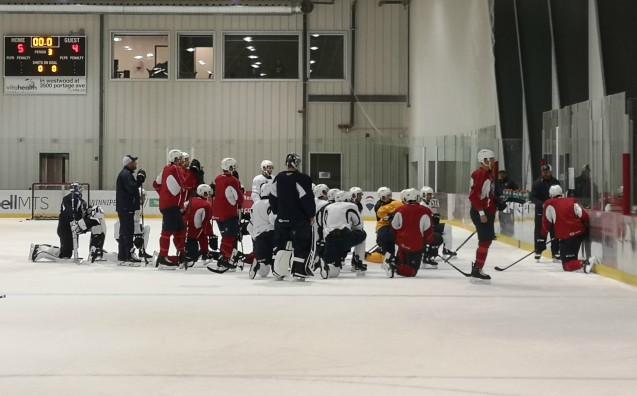 The Manitoba Moose open the second half of a four-game homestand Friday night at Bell MTS Place when they face the San Antonio Rampage.
The Moose have a win and a loss to start their first stretch downtown, and look forward to getting back to their winning ways tomorrow against the St. Louis Blues' new affiliate.
Defenceman Logan Stanley is expected to return to the Manitoba lineup.  He's been out since a shot block in the season opener sent him limping to the dressing room.
"I'm feeling pretty good now. Ready to play again," said the 6'7" rookie after practice at Bell MTS Iceplex Thursday. "I think it's kind of unfortunate cause it's something you have to do. You have to block that shot or else there's a good chance it might be a goal, and we're trying to stay in that game, so that's a part of the game. It's feeling good, so I'm ready to go."
Stanley, selected 18th overall by the Jets in 2016, has had four full 'contact practices' this week to prep for his return.  The young defender has been paired up with captain Peter Stoykewych for much of that time.
This weekend's set with San Antonio is the first meeting between the teams since the Rampage and Blues partnered up, and the first since San Antonio was shifted over to the Central Division (due to the League's expansion to Colorado).
Stanley and his teammates are looking forward to the challenge, and the Moose are searching for consistency after an up-and-down start.
There's a belief the team's focused and high-intensity approach to practice is helping with that cause – both collectively and individually.
"I think that's the kind of stuff I need to get ready, and I think everyone kinda needs that still early in the season to stay in game mode and get your rhythm," said Stanley reflecting on another stretch of training time loaded with drills simulating game conditions. "And, our practices have been good and high-intensity and I think we're getting better."
The Moose have been limited to six goals in their four games, and are out to improve on that, but Mason Appleton and Sami Niku bring two-game point streaks into Friday's contest.
The Moose and Rampage each have 1-3-0-0 records, but while Manitoba lost its last game, San Antonio has dropped three straight.
Following Friday's matchup, the teams will clash again on Sunday in the Manitoba Moose Pride Day game, a two o'clock start featuring auction items and specialty t-shirts.  Fundraising proceeds support the Rainbow Resource Centre.
For Moose ticket information go to moosehockey.com/tickets.