Oct 2 Practice Update
By: Mitch Peacock | Published: October 2nd 2018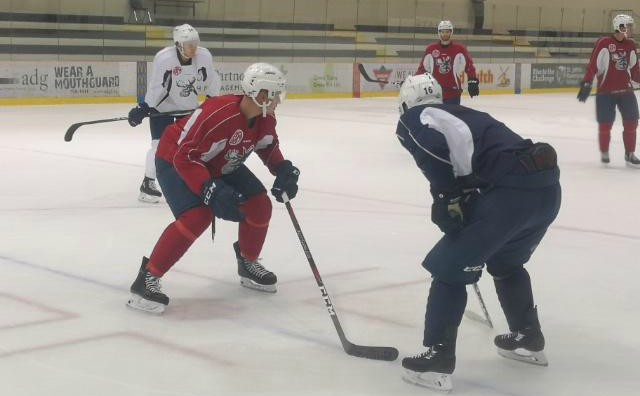 Much like the parent Winnipeg Jets, the Manitoba Moose are gearing up for a regular season opener to be played on the road later this week.
While the Jets take on the Blues in St. Louis Thursday, the Moose visit Des Moines to face the Iowa Wild Friday and Sunday.
Until then, the teams are fine-tuning.  For the Moose that means continued player evaluation, plus systems work and special teams training.
Today was the AHL club's second practice since Saturday's intrasquad game and the tempo continues to be high.
Jets' first-rounder Logan Stanley skated with Manitoba Tuesday, his first workout with the team since being re-assigned by the Jets earlier this morning.
The 20 year old is excited about starting his pro career – especially after a good spell at Jets' camp set up by a strong summer of preparation.
"Getting stronger and more fit, I think that's helped me on the ice in getting faster and quicker," said the Ontario Hockey League grad. "I'm happy with my off-seasons and I think that's what's making a big difference."
Stanley has yet to play an American Hockey League game, but spent time with the Moose at the end of his junior season last spring – something that that introduced him to the routines and level of play.
Meanwhile, veteran centre Felix Girard is finding his way with his third AHL team.
The 24 year old former Nashville fourth round draft pick spent more than two seasons with the Predators' affiliate in Milwaukee before being dealt to Colorado – a move that lead to a season plus with San Antonio.
Coming off a career-high 12 goals with the Rampage, Girard is looking to bring that offensive confidence and his trademark defensive play to the Moose – a team he's already impressed by.
"I like the group (with the Moose), they're pretty tight. A lot of guys have been around with the organization for a while, up-and-down, and this helps a lot and it shows in the room that there's good leadership and guys know what to expect."
Girard knows leadership – he was a captain for two seasons in the QMJHL. As for that defensive acumen? Girard claimed the Quebec League's top-defensive forward award on two occasions.
Rookie or veteran, the start of a new season is highly-anticipated – just ask Felix Girard.
"It will be exciting, we've prepared all summer for that so I'm looking forward to it."