Oct. 23 Practice Report – Poirier Makes Progress
By: Mitch Peacock | Published: October 23rd 2018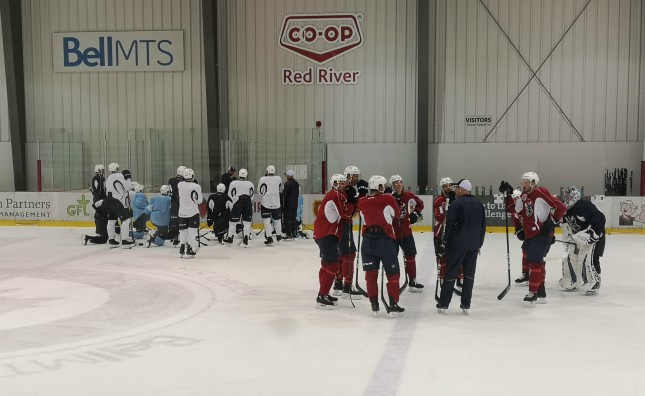 The Manitoba Moose have their first win streak of the new season, and sit at .500 overall, after putting back-to-back victories over San Antonio together on the weekend.
Today the Winnipeg Jets' American Hockey League affiliate returned to practice at Bell MTS Iceplex – two days after exploding for six goals to complete the sweep of the Blues' affiliate Sunday.
Winger Emile Poirier had his first multi-point game with the Moose in that success with a goal and an assist.  Poirier, a former Calgary Flames' first round pick, is currently on a try-out with the Moose  His productive outing came after sitting out two games against Belleville the week before – time he said proved valuable.
"I think every day I feel more comfortable with the new system and stuff. So, yeah it was – watching those two games was – a little bit of learning and (I) put the work in and come back strong this (past) weekend."
Poirier skated with Jansen Harkins and Mason Appleton against the Rampage, and the trio impressed.  The line combined for three goals Sunday as the Moose hit for a season-high six goals.  Not surprisingly, Poirier is a big fan of his new linemates.
"I think they're good players," said Poirier after this morning's workout at the club's practice facility. "I think Mase (Mason Appleton) likes to shoot the puck, likes to go wide and fast so that's my game too. And Harks (Jansen Harkins) is good in middle, good in the faceoff, works really hard so I think we had a good fit this weekend and looking forward to continuing."
The club's ten goals in the San Antonio series were a big step forward from the half-dozen they counted in their first four outings.
Mason Appleton extended his point streak to four games with six points in the two wins – a whopping five of those on Sunday.  Appleton is now one of only three players in Moose history to have recorded a hat-trick as part of a five point night.
Meanwhile, five Moose players spent this afternoon at St.Amant where they learned about the group's extensive work with Manitobans with autism and their families.  The hockey club offers support to St.Amant through a fundraising event built around a game and auction in March of each year, an effort that's generated $45,000 dollars in just three years.
The Moose return to action Saturday night in Milwaukee when they kick off a three game road trip at the home of the Admirals.  Catch it live at moosehockey.com/listenlive, via the Moose App, or on AHLTV starting with the pre-game show at 5:45 p.m.