Oct. 24 Practice Report – Schilling "A" Good Influence
By: Mitch Peacock | Published: October 24th 2018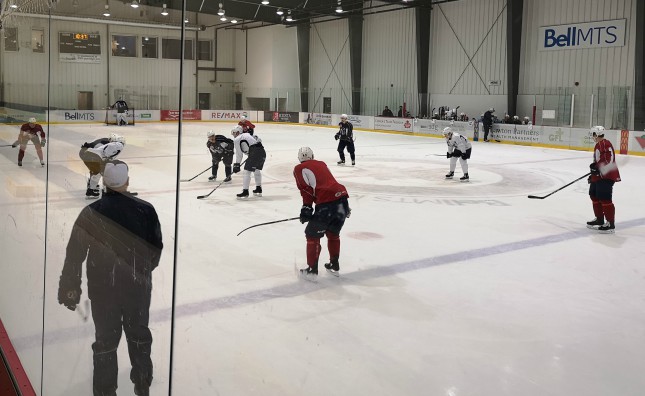 Another day, another practice for the Manitoba Moose as they gear up for a big Central Division road trip starting with the Admirals in Milwaukee Saturday night.
While the daily grind of practice can start to look the same to the passive observer, there's a lot going on out there.
A big part of it is the teaching the coaches are doing – helping both the players individually and the team as a whole.  Some of it is the kind of development that comes from within the players on the roster, a growth led by the team's veteran voices.
To that end, the Moose named Peter Stoykewych captain earlier this season, with  JC Lipon serving as alternates Cameron Schilling.  All three players earned their appointments because each has numerous qualities that make them difference makers on and off the ice, and on a team loaded with new faces that internal guidance is especially valuable.
"In this organization we tend to have a lot more younger guys than other ones, so you can kind of take on more of a leadership role than anything," said Schilling after today's workout. "(It's) just helping them in their careers, and you know not even necessarily winning games and stuff.  Just, you know, making them better people and trying to (help them) understand how the world works and stuff like that.  So if anything, that's probably more different in this organization than a lot others."
It's notable a player who has skated in two other organizations, and has been in pro hockey seven years, sees a uniqueness to the Jets' approach.  It's hard to measure just how valuable players like Schilling, and the team's leadership group, are.
Maybe a sense of that value is evident in Schilling's remarks as this young Moose team deals with the success of its first back-to-back wins of the season while preparing to face two Central Division foes on the road this weekend.
"I think if anything it's a confidence boost there, to know we can play, and that we can put some goals up and stuff. I think that second night really kind of showed that we can play if we play the right game," said Schilling with a hint of cautionary tone in his voice. "Obviously this weekend's going to be a true test because, you know, Rockford and Milwaukee are going to be good teams.  We'll see where we stand, but overall I thought it was a good weekend."
Perspective is a vital piece of the puzzle for any group with a goal, and something it seems the Moose can count on from veteran influences like Cam Schilling.
The Moose and Admirals play Saturday night at 6 p.m. (coverage begins at 5:45 p.m. on moosehockey.com/listenlive, the Moose App, AHLTV) before moving on to play the IceHogs Sunday afternoon at 4 p.m.