Oct.25 Practice Report – Moose Set For Road Tests
By: Mitch Peacock | Published: October 25th 2018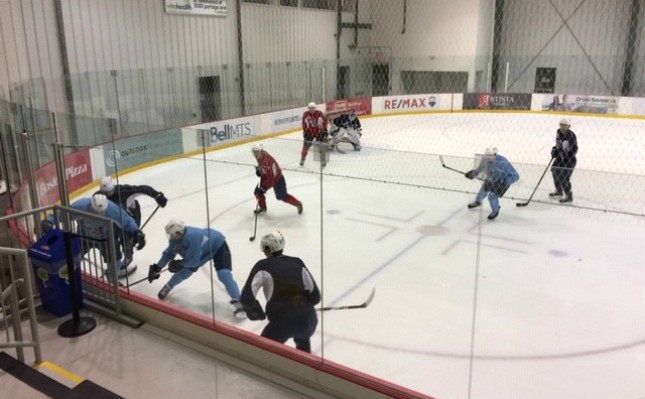 The Manitoba Moose are off to Milwaukee, Wis. early tomorrow.
The Jets' American Hockey League club wrapped up its practice week this morning at Bell MTS Iceplex with a third straight day of intense rehearsals for its first road games since the opening weekend of the season.
Veteran winger JC Lipon knows two games against the Admirals, and a visit to Rockford, will make for a big test, but says the games also present this young Manitoba team with a valuable opportunity to learn.
"You gotta go into the game and, you know, not really think of it as a big picture – just take it a period at a time," said Lipon – now in his sixth season with the organization "Sometimes on the road you're going to be down a goal and you gotta battle back. But, you know, going into the third period down a goal on the road isn't too bad and guys just gotta know that the game changes. Guys (will) sit back, it's hard to play with the lead too, and you know there are lots of things to learn."
Lipon scored twice last weekend against San Antonio, his first two tallies of the season.
The checking winger had had 17 goals last year, all but two of them at even strength, and none of them by way of the power play.
The Moose hit the road at 3-3-0-0 on the season thanks to a two-game win streak, while Milwaukee leads the division entering the weekend.  It's going to be a battle to earn points on their travels, but there's something else going on these days.
Moose head coach Pascal Vincent is still very much in evaluation mode when it comes to his team.  Vincent, and assistant coaches Marty Johnston and Eric Dubois, are continually assessing the players to better understand how to help them grow individually and to see how they can best serve the team.
The reigning AHL coach of the year believes knowing what you are allows you to be your best, and just six games in things are becoming clearer.
"You need to know who you are as a team, and as a group, and then push yourself to be the best at what you can be good at and what we can be good at is supporting the puck and attacking the net," said Vincent after Thursday's skate before adding. "(It's) very simple but hard to do consistently, and when we did it in the last two games, well the final result was there."
The Moose haven't played on the road since dropping a pair to the Wild in Iowa early in the month.
Mason Appleton takes a four-game point streak to his home state of Wisconsin, the sophomore notched five points in his last game to help complete sweep of the Rampage.
Milwaukee is off to a strong start with just one regulation time loss in eight games.
The Moose and Admirals play Saturday night at 6 p.m. (Coverage begins at 5:45 p.m. on moosehockey.com/listenlive, the Moose App, AHLTV) before moving on to play the IceHogs Sunday afternoon at 4 p.m.
The trip concludes with a re-match against the Admirals Tuesday, Oct. 30 in Milwaukee.