Oct 3 Practice Report
By: Mitch Peacock | Published: October 3rd 2018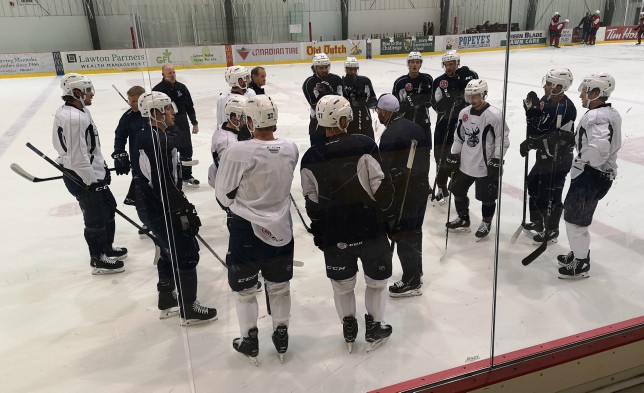 The Manitoba Moose are closing in on their season opener – Friday night in Des Moines, Iowa –so it was time to bring the group together as one this morning at Bell MTS Iceplex.
Roster numbers led the coaches to divide the group earlier in the week.  With some player movement, and game one against the Wild a couple of days away, there was much more of a team feel to practice today.
Head Coach Pascal Vincent and his staff covered a lot of ground in the fast-paced, one-hour session. Building on the systems work of earlier in the week, the group not only attended to its five-on-five play, but also fit in both power play and penalty kill time before wrapping up with hard skating.
Second-year pro Tucker Poolman, who may be called on in all situations, took part in the session a day after being the last player reassigned by the Jets.
Poolman picked up one goal and nine assists in just 17 appearances with Manitoba as a rookie.  That's on top of the two points earned in the 26 games he played for the Jets – including two outings in the Stanley Cup Playoffs.
While lines and defence pairing are still taking shape, there's not much question about the starting goalie.  Eric Comrie enters his fourth pro season as the number one with the AHL team, and number three in the organization.
It's a role he takes pride in, but it's not his only role.  He's also grown into being part of the leadership group to help the team operate on the right track.
"I'm one of the older guys now," said the 23 year-old after the day's skate. "I was talking to Stoyo (Peter Stoykewych) and Gator (JC Lipon), we're like the longest lasting people here. I mean it's been crazy.  I've been here since the Moose (2.0) first got here, and it's been a lot of fun throughout the years and now it's kind of our responsibility to really show these guys what this place is all about.  Because it's a special place to play, and it's a privilege to wear the Moose jersey."
The Moose practice again Thursday morning at Bell MTS Iceplex before flying to Iowa.
Manitoba was four-and-four in its eight regular season meetings with the Wild last season.