Welcome, Campers!
By: Daniel Fink | Published: October 3rd 2022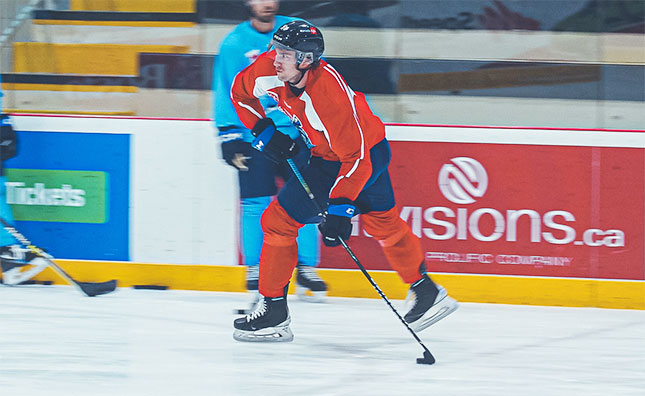 The Manitoba Moose are finally back on the ice.
Following a strong showing in the 2021-22 campaign and a hard-fought five-game playoff series, the Moose scattered across the globe. Players got some much needed rest and turned their eyes toward the coming season. Now its time for those hours in the gym and small-group skates to pay off as the team hits the ice at Bell MTS Iceplex this week.
Just like that, Day One of Training Camp is already in the books. Time for a quick check on the opening day.
Many, Many Moose
The Moose opened Training Camp with a whopping 38 players on the roster. That might not seem like a huge number compared to some NHL or junior camps, but keep in mind Manitoba kicked off its 2016 camp with just 17 players involved. So having 22 forwards, 12 defencemen and four goaltenders certainly gives the Moose coaching staff, led by Mark Morrison, plenty to work with. It has the Moose training and equipment staff very busy the next couple weeks.
The roster also continues to grow. The Winnipeg Jets assigned forward Kristian Reichel to the team today. Make that 39 Moose in camp. Pending waivers, Swedish forward Kevin Stenlund could bring that number to an even 40 should he clear tomorrow afternoon.
Here are the groups for today's #MBMoose skates @bellmtsiceplex.

Group 1 - 10:30am - MBT Rink
Group 2 - 12pm - Flynn Rink

Of note for media, players are available after each skate. Coach is available following the second skate. pic.twitter.com/u5Rvq6kyIz

— Daniel Fink (@danielthefink) October 3, 2022
The Pre-Season Experience
A total of 13 players on Manitoba's camp-opening roster appeared in pre-season games with the Winnipeg Jets. That group includes forwards Cole Maier and Evan Polei, who attended Jets camp on professional tryouts. The duo made good on the chance, each scoring a goal in a 4-3 Jets victory in Montreal.
"It was a really cool opportunity. With it there was a balance of trying to make the most of it, and also enjoying it and soaking it in. Especially getting to play in a game, it was a lot of fun," Maier told Austin Siragusa following the day's first session. "A lot of the guys from the Moose last year were there. So there were a lot of familiar faces, so it was easier to get comfortable."
Speaking of those familiar faces, 2021-22 Moose teammates Jeff Malott and Johnny Kovacevic assisted on Maier's second period goal. Polei, one of Maier's linemates from the previous season, opened the scoring for the Jets in the first period.
"I wasn't expecting to play a pre-season game, but the coaches told me I earned it in practice the way I was working," explained Polei. "I ended up scoring a goal, which was huge. It was a good feeling in front of all the fans in Montreal. It's a really cool building to play in. All-in-all it was a good experience again, just like last year, so I'm grateful I had the opportunity."
The @manitobamoose boys are making an impact ? pic.twitter.com/nw4uxDI3QB

— Winnipeg Jets (@NHLJets) September 30, 2022
Family Ties
Training Camp always provides opportunity for new faces to make their mark. The Moose brought 10 players to camp on tryout agreements including forward Ben Hawerchuk. The son of Winnipeg Jets legend, Dale Hawerchuk, is looking forward to the opportunity to battle for a spot on the Moose roster.
"It's a good opportunity for me personally," said Hawerchuk following the second session of the day. "Just to be back here in Winnipeg. My dad has so much history here. Same with my family, my mom's from here, she has family here. It's kind of like a second home to me, so it's nice to be home. I'm just going to try and make the most of this opportunity."
Hawerchuk tallied 35 points (18G, 17A) in 65 games with the ECHL's Jacksonville Icemen last season. He started out the campaign in Italy with Merano of the Alps Hockey League, racking up five points (1G, 4A) in five games.
Day Two of Camp sees the Moose once again hit the ice in two groups at Bell MTS Iceplex at 10:30 a.m. and 12 p.m. The on-ice sessions are open to the public.