Training Camp Notebook: Day Four
By: Daniel Fink | Published: October 6th 2022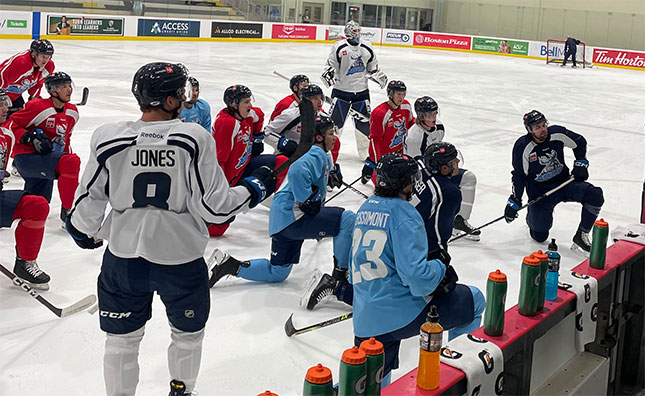 In a "blink and you'll miss it" sort of way, the first four days of Manitoba Moose Training Camp are already behind us. Two skates per day and 40 players in camp gives us plenty to look back on since our Day One update.
Meeting in the Middle
As with any AHL club, the camp roster is made up of players from all over the world. Six countries are represented on the Moose at the moment. Canada leads the way with 22 players from six different provinces. The United States checks in with nine players from eight different states. Meanwhile, there's a strong Swedish delegation with four players. Finland and Czechia each feature two players and Leon Gawanke is the lone German representative.
One of the oddest roster quirks from this season's Training Camp is the Bowmanville, Ont. contingent. An impressive three players, Declan Chisholm, Evan Cormier and Jacob Friend, all hail from the Ontario city of about 40,000 people.
Forwards Evan Polei and Tyler Boland were kind enough to document their travels from Kelowna, B.C. and Fredericton, N.B. respectively.
The Local Angle
Manitoba products always garner plenty of interest and the Moose do feature three locals on the current roster. Two are familiar to fans with Portage la Prairie's Dean Stewart and Flin Flon's Ashton Sautner. Stewart suited up in 20 games with the Moose in 2021-22, racking up nine points (1G, 8A). You have to go a little further back to find Sautner's previous stint with the Moose as he logged two games in Manitoba during the 2020-21 campaign before joining the Vancouver Canucks Taxi Squad for the season.
The new face is Tyler Penner, who joined camp on a tryout agreement. The Winnipegger has been rising the professional ranks after spending 2020-21 in the SPHL, followed by 33-points in 72 games with the ECHL's Utah Grizzlies in 2021-22. The former Steinbach Pistons captain is soaking in the opportunity to skate with the team he used to watch as a kid.
"It's pretty cool. I mean, I grew up watching the Moose play. My dad would take my brother and I to games. Having the chance to put on a Moose jersey is pretty special," Penner told Austin Siragusa. "I remember watching (Mike) Keane out there. So it's pretty special getting to have his help (on the ice) as well."
Getting Good Reviews
One of the new additions to the roster this off-season was forward Alex Limoges. He signed with the Jets following an impressive season in San Diego, posting 40 points (23G, 17A) in 62 games. The Penn State alum has been a big producer at every level including 125 points (51G, 74A) in 128 NCAA contests and now 61 points (34G, 27A) in 85 career AHL games.
During his time in San Diego, the Winchester, Vir. native played with former Moose Chase De Leo and Buddy Robinson. He also knew a couple of players currently within the organization. When he signed on with the Jets, Limoges got the rundown on the city and the teams.
"I heard a lot of good things about Winnipeg... a lot of cold things about Winnipeg," Limoges laughed. "I know two guys that are here and I played with a guy in San Diego who used to play here, actually a few guys. I was asking and reaching out when I signed and asking some questions. It was fun, and exciting to know at least two friendly faces when I walked in here."
The Moose are just 10 days away from the Home Opener presented by Canada Life on Saturday, Oct. 16. Secure your seats today for the team's first game of the new season by visiting MooseHockey.com/TICKETS. Puck drop against the Rockford IceHogs is scheduled for 2 p.m. at Canada Life Centre.