Oct 9 Practice Report
By: Mitch Peacock | Published: October 9th 2018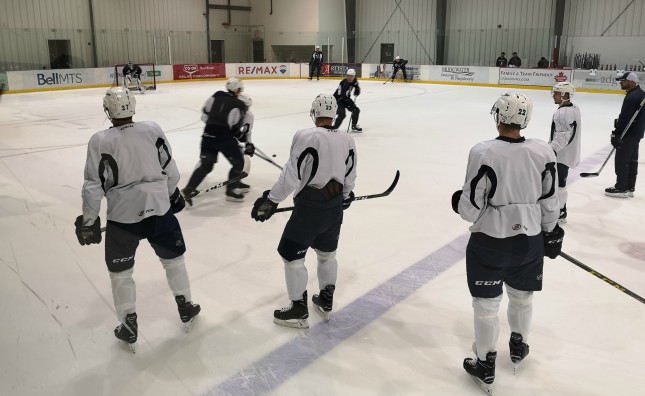 After having Thanksgiving as a day off, the Manitoba Moose put in an intense day at the office today at Bell MTS Iceplex.
The Winnipeg Jets' American Hockey League team got back to work with heavy-duty on and off-ice sessions at the organization's practice facility.
Highlighting the effort was a practice running over 60 minutes loaded with compete drills and demanding skating drills.
Even the casual observer could see the practice was one with a purpose, and the idea was to reinforce the importance of commitment and attention to detail.
After falling twice in Des Moines over the opening weekend of the new season, the team is working to find itself and develop its identity.
AHL rookie Kristian Reichel, who scored in his debut Sunday in Iowa, was not surprised by the nature of today's practice.
"We deserve it because we didn't play that good and so if we don't play good in the game you need to practice hard in the week," said the native of the Czech Republic and former Red Deer Rebel. "So, I mean, it was (a) hard practice for everybody, and we deserve it so it's good we practice hard and we will be ready on Friday."
While Reichel is new to the pro game in North America, he's not new to pro hockey.
The son of former NHL'er Robert Reichel, who scored more than 600 points in more than 800 games in hockey's best league, Kristian has 56 games in the Czech top-circuit on his resume.
"It's different than the pro back in Europe. It's harder and, it's like, AHL everybody wants to play NHL so everybody works 100 percent.  It was tough loss on Sunday, but from my point it was great to score in first game from the first shot. So, that was great, but you need to still work on every skill to get better and score more goals."
Friday night the Moose face the Belleville Senators downtown at Bell MTS Place in the team's home opener.  Manitoba and Belleville played a pair of barn-burners in Winnipeg last season with the Sens winning in a shootout before edging the Moose in overtime in the re-match.  Later in the season the Moose took two from the Senators in Belleville, both in regulation time.
Friday's home opener kicks-off a four-game home stand for the Moose, and the first 6,000 fans through the doors will receive LED thundersticks.  Fans will also receive a Moose fridge magnet schedule when exiting the building.  Tickets are available at moosehockey.com/tickets.