Practice Report – Oct. 19
By: CK Nakhwal | Published: October 19th 2015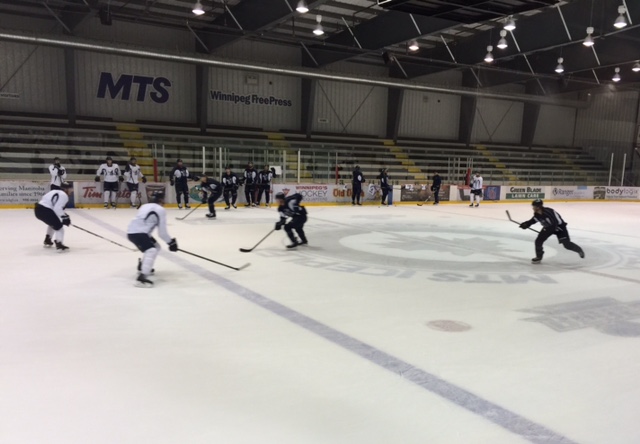 After a day off, the Manitoba Moose got back to work Monday at MTS Iceplex.
Head Coach Keith McCambridge led the team through a high tempo session that included systems work and lots of attention to getting pucks to the net. The coach has made it clear he wants to see the Moose improve at transitioning to the attack after getting possession in their own zone, and he's looking for more shots on goal.
After all the breakout and battle drills the players got to put their competitiveness to work in a series of mini-games. Pairs of players squared off against each other with the nets about ten yards apart in one end zone. Goalies Connor Hellebuyck and Eric Comrie were at their best and that only served to get the players more into pushing for goals and hustling to come out on top.
While no official scores were posted, there seemed to be no shortage of talk amongst the pairs as to who was best on the day.
The Moose (0-2-1-1=2 pts) return to practice Tuesday and Wednesday in preparation for games Thursday and Saturday against the Lake Erie Monsters (1-1-0-1=3 pts).
For tickets go to moosehockey.com/tickets
Thursday's game can be heard on moosehockey.com starting with the pre-game show at 6:45 p.m.
-Mitch Peacock – MooseHockey.com