Training Camp: Moose Prepare For 2019-2020 Season
By: Austin Siragusa | Published: September 23rd 2019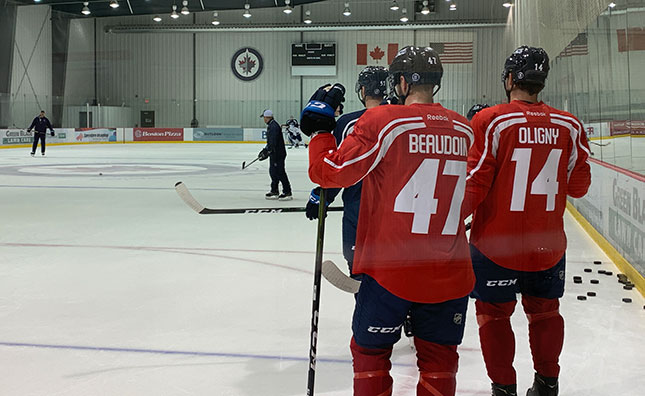 The Manitoba Moose began their 2019-2020 Training Camp at Bell MTS Iceplex Monday.
19 skaters were brought to camp, including 2 goaltenders, 6 defenders and 11 forwards. Forward Samuel Laberge was not a participant in Mondays skate as he was sidelined with an injury.
Moose Head Coach Pascal Vincent was extremely pleased with the high intensity he saw for the first day of camp.
"We talked about the mindset we wanted to have and pushing ourselves, and the guys did push themselves," the head coach said.
"I really liked the way they worked."
Moose captain Peter Stoykewych was also among the participants at camp, and hopes the newcomers are able to quickly buy into the coaches plan.
"The quicker you can get everybody on the same page, the better off everyone will be, top to bottom," the captain said.
"You see teams win the Stanley Cup, you see teams win the Calder Cup, it's never the top lines that are doing all the legwork."
The Moose finish training camp with two exhibition games against the Iowa Wild at the Ralph Engelstad Arena in Grand Forks, N.D. on Sept. 27 (7 p.m.) and 28 (2 p.m.). Tickets are available here.
All training camp on-ice sessions will take place at Bell MTS Iceplex and are open to the public. Click here to view the schedule.