Sept 29 Practice Update
By: Mitch Peacock | Published: September 29th 2018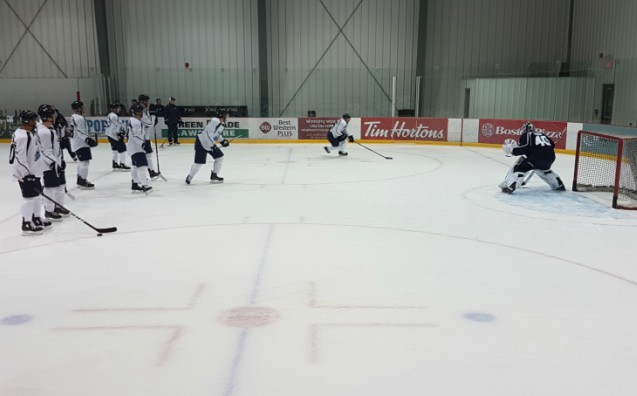 The morning skates are done, and the players currently on the Manitoba Moose roster are resting-up for tonight's 6 p.m. intrasquad game at Bell MTS Iceplex.
There are three dozen players in camp after all five skaters placed on waivers by the Jets yesterday cleared today (Griffith, Schilling, Lipon, Everberg, and Kerdiles).
With no preseason games ahead of the regular season opener Friday night in Des Moines, IA, the game between Team Blue and Team White is much more than a scrimmage.  The game is a true chance to make an impact on the coaching staff.
"We don't have a lot of time before our first regular season game, and I think that as much as you want to do things in practice, games are the real evaluation tool for us as coaches.  It's going to be interesting to see how some of the guys react to the pace and the physicality, and that's why we're doing it tonight," said assistant coach Marty Johnston after the morning workouts. "So, it's an important day for everyone at Moose camp."
Johnston will run the bench for Team White, while fellow assistant Eric Dubois will guide the way for Team Blue.
Dubois feels there's been a lot to like about the effort of the group so far.
"We like the tempo. The guys have assimilated what we've been asking them to do as quick as possible so the tempo – the pace of our practices has been really good – the execution could always be better it's normal for the first couple practices so for the game tonight we'll expect the pace to go up again and maybe see some guys who could get the game plan, get the neutral zone forecheck – things like that – assimilated as quick as possible so it'll be interesting."
Both teams are a mix of players auditioning for spots and those counted on to be the foundation of the team.
Veteran Ryan White, in camp on a tryout, is the only player to miss out on the action tonight due to an injury.
It's expected all four goalies; Eric Comrie, Ken Appleby, Mikhael Berdin, and Tanner Jaillet will see time in the contest which will include an officiating crew and operate like a regulation game (with the possible exception of shorter period lengths due to smaller rosters).
Tonight's contest is open to the public and free of charge.  Lineup sheets will be available to fans for free as well.  Puck drop is slated for 6 p.m. on the RE/MAX rink at Bell MTS Iceplex.