Putting the 'R' in Czuczman
By: Mitch Peacock | Published: September 13th 2016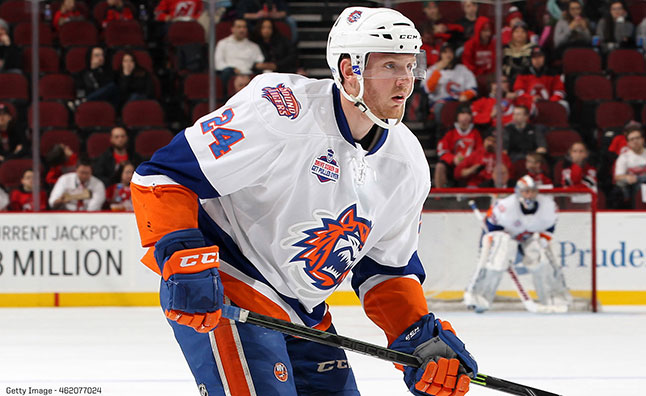 One of the most recent Moose signings is a player that may seem new to the organization, but it turns out he's quite familiar with the club and the new spot he'll be hanging his hat this season.
Yes, defenceman Kevin Czuczman has 13 NHL games with the New York Islanders on his resume, but he has ties to Winnipeg, too.
First, let's take care of the elephant in the room.
How do you say his last name?
WHAT'S IN A NAME?
It's often the first thing that comes up when Kevin Czuczman deals with people for the first time – especially with fans or media covering hockey – how do you say your last name?
For the record, it's "Church-man".
And no, he doesn't know where the "r" comes from. What he does know is that's how his family has been saying it for years and he's sticking with it.
'PEG LEAVES LASTING IMPRESSION
Czuczman joins the Moose after 124 AHL games in the Islanders organization, but don't let that fool you – he knows a little something about the place we call home.
Turns out before he signed with the Isles, Kevin attended Jets' Development Camp and the experience went a long way towards convincing him to accept the offer to join the Moose.
From the buzz at MTS Iceplex that summer, to the chance to play in a hockey-mad Canadian market (which he's seen first-hand), it made for a pretty easy decision to sign.
Add on the fact he developed a good rapport with Jets' Coordinator of Player Development Jimmy Roy during his introduction to the club back then and it makes a lot of sense that he'll be looking to grow his game in the Manitoba capital this winter.
DEDICATED TO HIS CRAFT, AND KEEPING HIS GOALS IN MIND
Kevin describes his strengths as skating, size (6'3", 210), willingness to compete and desire to be a leader, but all it took was one conversation to learn he's also a motivated athlete who has every intention of turning his time with the Moose into another shot in the NHL.
"That's still my goal. I know I can do it. I know it's attainable. Once you get a little taste of it you want more – keeps you hungry, keeps you pushing for more," the 25 year-old said from his home in Port Elgin, Ontario before adding reflecting on his development.
"I grew a lot as a player in my first two years pro. You play college and you don't realize how many more little things you have to work on once you get to pro and if you don't work on them you get left behind – it's kind of a continuous process. I'm really happy where my game is right now and I'm really looking forward to starting fresh with the Moose."
Kevin and the Moose host the Bakersfield Condors in their home opener Tuesday, October 18 at 7pm – go to moosehockey.com for ticket information.