Finding a Home in Winnipeg
By: CK | Published: July 25th 2018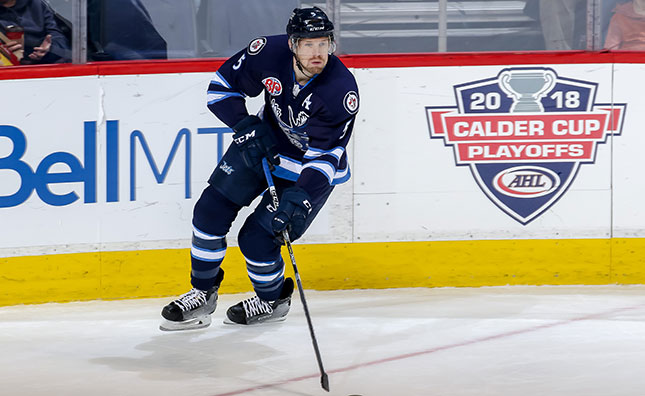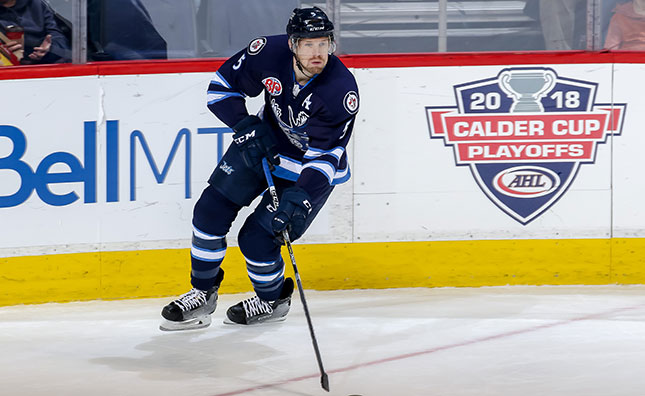 When Cameron Schilling signed with the Winnipeg Jets last summer, it was his third organization in a matter of months.
The veteran defenceman split his first three pro seasons between Washington and its American Hockey League affiliate in Hershey.  Schilling started the 2016-17 season with the Chicago Blackhawks' farm club in Rockford, before a trade sent him to the Los Angeles Kings' organization and their minor league affiliate in Ontario, Calif.
Free agency followed on July 1, 2017, and that's when the Jets came calling.  The decision to sign with Winnipeg started the next chapter in a quietly impressive pro career.
MAKING A DIFFERENCE IN MANITOBA
You don't play 355 AHL games, and six NHL contests, without having something to offer clubs.  Schilling brought plenty with him when he, and wife Jaclyn, packed their bags and moved north of the border from suburban Detroit last fall.
Capable of playing in all situations, Schilling has a proven track record of being versatile, competing hard, and rarely missing a game. He also offered maturity and leadership to a Moose team determined to earn its first playoff spot in four seasons.
Fast-forward a year and… mission accomplished.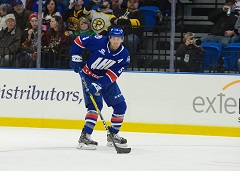 Schilling helped set the tone as part of a strong group of veterans, and turned in a campaign worthy of an appearance in the 2018 AHL All-Star Classic.
Team-wise, the Moose not only reached their goal of making the post-season, but also eliminated the reigning league champs in a thrilling winner-take-all contest in Grand Rapids.  Schilling scored the series-clinching goal in the deciding Game 5.
"That win was probably one of my highlights in pro hockey. I haven't had a lot of deep runs in pro. I've made it to the second round or so, but I think the Game 5 win and the way we did it. (It was) kind of gritty and (we) had a lot of odds stacked against us that series with injuries and suspensions and what not… definitely made the win that much better."
LOVING THE 'PEG
Now, fresh from signing on for another season with the Jets, Schilling is ready for more in Manitoba.
"(Re-signing) means a lot. Obviously we had a really successful season last year with doing really well in the regular season, and making a little bit of a post-season run. It's great to be back with the same coaches, management and everything," said the former Capital, before emphasizing Winnipeg itself played a big part in the decision. "My wife really loves the city too.  She got treated really well which doesn't always happen in a lot of the American Hockey League cities, so she liked it and it worked out great for both of us."
You could say Schilling's starting to sound like a local after just one season in Winnipeg.
From talk about how the weather is only rough for a few months in the winter (even pointing out it's not much colder than back home in Michigan), to saying how much he and Jaclyn enjoy the local restaurant scene and life in Osborne Village.  This is a good fit for the couple, and for a club looking to build on a tradition of winning while developing young players.
FAMILIARITY IS A PLUS
Make no mistake, Cam Schilling still strives to play games at the National Hockey League level, but he also understands where things stand at this stage of his career.  He's looking forward to a stability that was missing for a little while.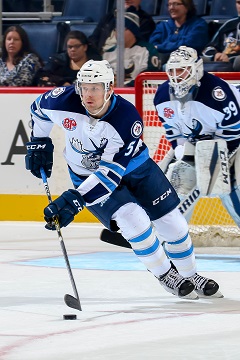 "It's nice to be able to come in this year knowing what they expect of me. They know my game. I know their style of play.  It definitely puts you a little bit more relaxed coming in, because every time you change teams you come into training camp and you don't know what to expect. You don't know how they're going to take your game. You don't know where you're going to be in the lineup. You know, everything can change," said the defender from his home in Birmingham, Michigan. "So, it's just good to be able to kind of know where I stand, the type of style they want me to play and the style they expect."
It's tough to label expectations on the Moose for next season given the lineup isn't in place, and won't be for a while.  Schilling suggested it could be like last season – a feeling out process as the group came together.
"Early on in our season, we kind of realized we were better than we thought coming into the year.  So it kind of got everybody excited, and everybody was having a good time. A lot of guys had career years this (past) year, so it's definitely nice when that happens because the coaches are happy, the players are happy. Obviously we would have loved to go a little further than we did, but there's a lot of other circumstances (that need to be in your favour) in the American League to be able to do that."
Only time will reveal if the Moose will be back in the playoffs, and making noise again next spring.  What seems a sure bet is a comfortable Cam Schilling can be counted on for another solid all-around season.