Shaw Hits Links With the Pros
By: Daniel Fink | Published: July 26th 2019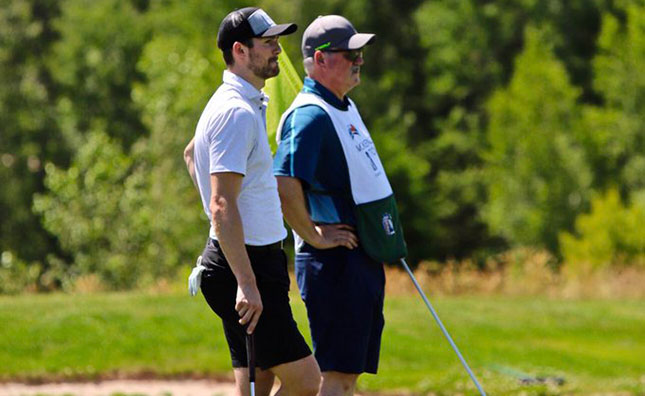 Logan Shaw has been able to relax a little more throughout the summer of 2019 compared to a year ago.  Shaw signed a one-year, two-way deal with the Winnipeg Jets back in May.  The new contract follows a breakout offensive season in 2018-19 that saw the veteran forward rack up 29 goals with the Manitoba Moose and San Diego Gulls.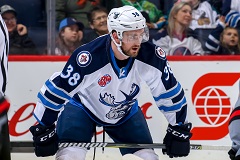 Having a deal in place and returning to Winnipeg gives Shaw some welcome stability after a tumultuous summer in 2018.  The Glace Bay, N.S. product didn't have a contract leading into the 2018-19 season and joined the Calgary Flames on a tryout for training camp.  That didn't result in a contract with the Flames, and Shaw signed an AHL deal with the San Diego Gulls.  The Jets came knocking in November, and Shaw spent the rest of the season as a key driver for the Moose.
"For myself, last season was very stressful," Shaw explained over the phone this week.  "Not having a contract until basically until the season started with San Diego in October, that's when I signed.  To be able to have the opportunity to have a team that wants me back, and sign as early as I did, it was definitely a confidence booster.  It's definitely really nice to have that kind of security."
Playing with the Pros
Spending time on the golf course is about as "hockey off-season" as it gets, and Shaw is no stranger to swinging the sticks.  This summer, though, he was offered a unique opportunity.  The chance to play alongside Mackenzie Tour (PGA Tour Canada) professionals at the Halifax Pro-Am on July 18 and 19 at Oakfield Golf and Country Club.  The two-day event paired amateurs like Shaw with tour pros and used a 'net best-ball' format.  After the first round, Shaw's pairing with Riley Wheeldon saw the Moose forward atop the amateur leaderboard.  Day two was more of the same alongside David Wicks, and Shaw wrapped up the two-day event tied for the low score with Jake Alward.
"Being able to watch (the pros) hit the ball the way they do on a consistent basis is nuts to me.  I can hit a couple good balls in a round.  I thought I played pretty well those two rounds," Shaw said.  "They're shooting minus-five and they're hucking clubs because they're mad they missed a birdie put or something.  For me if I can tap in a par or give me a bogey, I'll take it."
Shaw was quick to point out that's the difference between playing the game for fun and making a living from it.
"Like I said (in an interview) when I finished up the tournament… that's their livelihood," he added.  "It's the same as me missing a backdoor tap-in.  I'm going to be mad and might slam my stick or something."
Shaw's experience on the course with the pros helped him understand the difficulties solo athletes face.  It also added to his appreciation of competing in a sport that gives him the support of teammates.
"Those individual sports are tough," Shaw said.  As a hockey player, you don't really notice it as much because when something's not going right you have your team to rely on.  They're there to pick you up, they're there to support you.  If you're a goal-scorer, you don't just have to score goals.  If it's not going well you can go out there and penalty kill and contribute to the team.  As a professional golfer, those guys have it tough.  If they're not going, they're all individuals.  They're all in their own head.  They can't do something different, something else, to help pick it up because it's the only thing they have going."
The weekend in Halifax saw American golfer Lorens Chan went on to win his first Mackenzie Tour win with a 72-hole score of 24-under-par.  Shaw's Thursday partner, Riley Wheeldon (Canada), wrapped up tied for 16th place and his Friday pairing, David Wicks (England), finished in 40th place.
Part of the @NHLJets @ManitobaMoose system, Logan Shaw got an inside-the-ropes look the past two days at just how good #MackenzieTour players are.

Shaw tied for the lowest score among amateurs at the HFX Pro-Am @ProducedBySEA @oakfieldgolf @MackenzieInvest pic.twitter.com/umhIIkeKHn

— Mackenzie Tour (@PGATOURCanada) July 20, 2019
Shaw isn't the only player from the Winnipeg Jets organization with Mackenzie Tour involvement this off-season.  Forward Kyle Connor will tee off as a sponsor's exemption in the 100th edition of the Player's Cup at Winnipeg's Southwood Golf and Country Club from August 15-18.
Getting Ready for Puck Drop
Shaw says he has a "whole lot of training, whole lot of skating" ahead of him for the final month and a half leading up to Winnipeg Jets training camp.  That doesn't mean he can't sneak in some more golf.  Shaw will attend the annual Martime NHLers For Kids charity golf tournament this week and is looking forward to a couple of fun days with some familiar faces.  Then it's back to the gym and rink to prepare for what should be a very competitive Winnipeg Jets training camp.
The six-year pro has his eyes on earning a spot with the Jets.  With the departures of Brandon Tanev, Matt Hendricks and Par Lindholm there could be openings up for grabs with the big club.  It won't be easy as Shaw will compete against a contingent of his teammates from last season and some off-season free agent additions by the Jets.  That means being ready to go from the moment training camp opens.
"This year I'm really excited, really looking forward to getting back to Winnipeg and having a chance to make the Winnipeg Jets and being able to help them," he said.  "We'll see how that goes, but right now I'm just really excited for another opportunity with the organization."
Photo Credit: Jill Edwards