Moose Cook Up Some Community Service
By: Daniel Fink | Published: January 16th 2020
The Moose took a break from their usual routine to serve breakfast at Siloam Mission on Thursday. The team was up bright and early, just hours after the Moose skated off the ice at Bell MTS Place with a 3-2 overtime win. Shortly after arriving at Siloam Mission's drop-in centre, the players were divided into two groups. One set worked in the kitchen to prepare and serve meals at the counter. The other group cruised through the dining hall, serving patrons at tables, clearing trays and stopping to chat.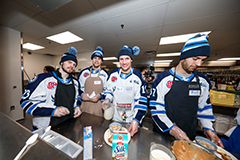 Visiting Siloam Mission for a fourth time, Nelson Nogier is always impressed by the sheer amount of work that goes into preparing over 400 meals.
"It's amazing. You see what's going on behind me right now and see the manpower and countless hours that go into a daily routine like this," Nogier said while taking a break from prep-work. "I mean, it's not just today that this happens. It's every single day, 365 days a year, from my understanding. So it's amazing and there are a lot of people we need to tip our caps to."
Nogier and his teammates are always ready to jump right in when presented with an opportunity to give back. It's something the Saskatoon, Sask. product thinks we can all do a little more of.
"In today's world there's always room for people being able to volunteer and giving back," continued Nogier. "Whether it's your community or even smaller, just even within your family. So to be able to help out when people need it… it's a special feeling."
Volunteers are a key component to the services Siloam Mission provides on a daily basis. Siloam Mission CEO Jim Bell says the organization is always happy to welcome more into the fold.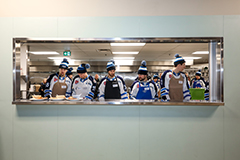 "Volunteers are the wind at our back at Siloam. I always tell people, 'from a sports perspective, I know on the ice you're only allowed so many people out there otherwise you're penalized… we always have room for one more on the team.' So as you see here today, this is a great example of that. We are so encouraged when the Manitoba Moose show up annually and show their commitment to community, and it is well received. So yes, volunteers are a key, key piece of what we do."
Over their 20 seasons operating in Winnipeg, the Moose have always been involved in community initiatives. In their most recent incarnation, events like Stick to Reading, the Community Practice Series, Shutout Hunger, Share the Warmth, and more, continue that tradition. Community relations coordinator Raquel Payne feels that involvement with the community is an important part of the players' experience off the ice.
"We think it's really important for the guys to get out in the community," explained Payne. "We see a lot of support and just for (the players) to get to interact with fans, especially people at Siloam.  We've been partnering with (Siloam Mission) for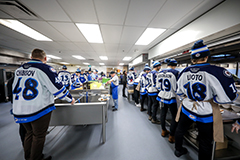 quite a few years now whether it's through the Share the Warmth clothing collection games or coming out and serving breakfast. It just gives the players an opportunity to connect with the community and interact with some people who might not otherwise get to meet the Moose."
The Moose get back to their regular day on Friday as the team practices at Bell MTS Iceplex. Manitoba hosts Laval for games Saturday and Sunday at Bell MTS Place. Tickets for Follow Your Dreams Day (Saturday) and Peter Stoykewych Mini-Bobblehead Day (Sunday) are available at moosehockey.com/tickets.