Moose Get First-Hand Look at Community Impact
By: Daniel Fink | Published: October 23rd 2019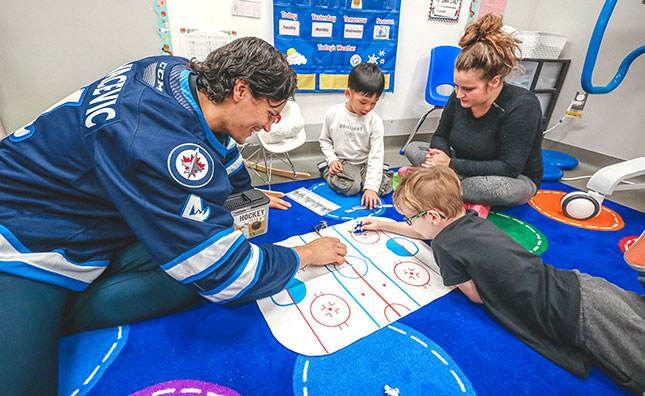 A busy month away from the rink for the Manitoba Moose continued with a stop at one of the St.Amant Foundation's autism program early learning classrooms. The East Kildonan location is one of four community classrooms around the city. All four have been developed with the support of funds raised by the team's annual Autism Awareness Campaign. The money raised over the past four seasons goes toward furnishing the classrooms, as well as providing games and toys or educational aids such as smart boards.
"It's been incredible. For the past four years, partnering for the Autism Awareness program has raised over $50,000," commented St.Amant Foundation Director Juliette Mucha. "That actually has been spent for our four community classrooms that we have for our early learning program. So for kids who have autism, and they're pre-school age, have a chance to catch up to their friends before the age of five, before starting kindergarten. They have a chance to practice these social skills, or communication skills, or just daily living skills so they can have the best chance of succeeding when they go to kindergarten."
In addition to the fundraising support, the partnership between the Moose and St.Amant provides some much needed community awareness around autism and the programs provided by the foundation.
"You can have some children who may have a tantrum or meltdown in a public setting. You'll have other people who gives a parent a frown like, 'how dare you not discipline your child'," Mucha continued. "Meanwhile it's just someone who's having their self-regulating moment and a few minutes later they'll be fine.  As we all know, kids learn differently and it's the same for kids on the autism spectrum. So having that community awareness, the understanding, and having that educational value is just so valuable for the families and kids we support."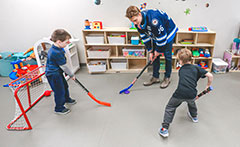 The players, or "my hockey friends" as one student referred to them, engaged in multiple activities with the class. These included reading a book, joining in for some dancing and, of course, mini-sticks hockey.  The unique aspect of visiting the St.Amant classrooms is players see the direct impact of the fundraising initiative. For defenceman Johnny Kovacevic, it will make pulling on the limited edition puzzle piece jersey on March 1, 2020 that much more important.
"100 per cent (it does)," said the Moose rookie. "I know a lot of people in the classroom today will be at that game. So I'll be, not that I don't play hard every game, but I'll play extra hard that game for them."
In his first professional season, the experience was eye-opening for Kovacevic who hadn't realized how Moose affected the community.
"It was really special, honestly. I was kind of taken aback," Kovacevic explained. "I didn't know just how big of a difference the Moose were making in schools like this and in these kids and their families lives. So it's unbelievable to see."
The Autism Awareness campaign is one of the team's largest fundraising initiatives each season. One aspect of the club's fundraising efforts is the auction of limited edition puzzle-piece jerseys at their annual Autism Awareness game. The Moose also perennially sell items like autographed player puzzles or last year's stuffed bears to generate more funds for St.Amant. Each year, the team has been overwhelmed by the support fans put behind the campaign.
"We're incredibly proud," said Moose community relations coordinator Raquel Payne. "It's always thanks to our fans that we're able to do these kind of things and raise these kind of funds for such a deserving organization. It's been a great partnership over the past four years and we're really happy that we're able to help some children out."
The Autism Awareness Campaign in support of St.Amant runs throughout the month of March, and will be kicked off by the Autism Awareness Game, presented by Red River Co-op on March 1, 2020 against the Chicago Wolves. Tickets for the game are available at moosehockey.com/tickets.