Stanley An Example of Moose Role in Development
By: Manitoba Moose Staff | Published: May 28th 2021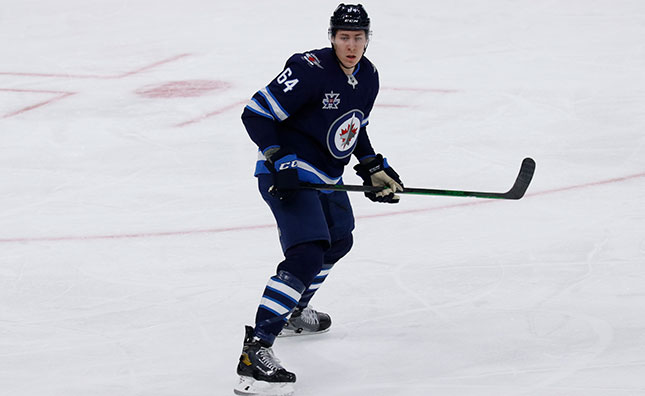 The 2020-21 season has been thrilling for defenceman Logan Stanley. After making the jump from the Manitoba Moose to the Winnipeg Jets, "Big Stan" made a big impact as a rookie.
Airbourne
Stanley suited up in 37 regular season games with the Jets and all four of the Stanley Cup Playoffs games. It's a tall task for the 23-year-old, but he isn't taking this opportunity for granted.  
"I think once I got around 10 games I was kind of thinking, 'okay I can play here, I'm good enough to be here.' That was big for my confidence. It's been a lot of fun and the guys in the room have definitely helped me out a lot."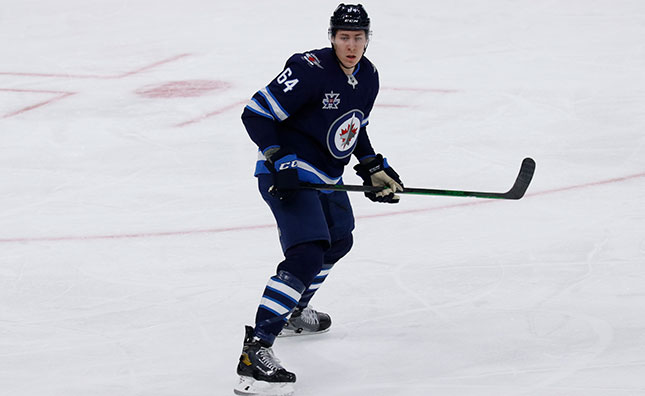 Stanley is also suiting up on the blue line with former Moose teammate Tucker Poolman. He adds playing with Poolman brings a sense of familiarity and comfort on the ice. 
"We developed some good chemistry (on the Moose), and now it's coming out again in the NHL."
Moose assistant coach Eric Dubois is one of the people most thrilled with Stanley's success this season after working with defender for the past two seasons the AHL. 
"I'm very proud of him. As soon as he scored his goal (@CGY, March 27) I sent him a text to congratulate him. When (the Jets) won the first round I sent him another text to congratulate him. I'm always going to cheer them every time I see one of those defencemen, or any player from the Moose, going up and helping the Jets."
With the second round just around the corner, Stanley hopes to continue his strong play deeper into the playoffs. 
"I didn't really know what to expect. I've only really watched on TV and stuff like that. All those four games were fast hockey and physical. It was a lot of fun and we're just excited for round two now."
Taking Off
Stanley wasn't just magically ready to log minutes for the Jets in 2020-21. He spent two seasons in the American Hockey League with the Moose before cracking the NHL roster.
The big defender appeared in 117 games with the Jets affiliate while recording 32 points (9G, 23A). Stanley burst out of junior and was named the Moose 2018-19 Rookie of the Year. He paced first-year Moose with 22 points (6G, 16A) and tied for the team-lead among defencemen with six goals.
The Kitchener, Ont. product credits an early-season bump in minutes with building his early confidence.
"I think we were in California and a couple guys got called up, and a couple guys got hurt. I ended up playing a crazy amount of minutes in my first year and I wasn't used to that," said Stanley. "That was definitely good for me to play all those minutes, get experience and get used to the pace."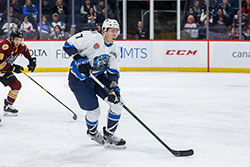 Expectations were high for Stanley an impressive first professional season. However, the former first round pick faced no shortage of adversity in his second campaign with Manitoba. Stanley was limited to 44 games due to a pair of injuries and the COVID-19 pandemic. A wrist injury a handful of games into the season held him out of the Moose lineup for over a month.
"Trying to come back after that… As much as you practice and try to get in shape, nothing's quite the same as playing in games. So I was a step behind. I was frustrated with where my game was at and expected more out of myself. I knew people in Winnipeg were expecting more out of me. So I think there was just a lot of pressure being built up."
The COVID-10 pandemic continues to affect us in many different ways. For Stanley, in that moment, it provided an opportunity to get healthy and focus on building toward a breakout season. Soon, the adversity he faced in the 2019-20 season would in the rearview mirror as a learning experience.
"I think when COVID hit and everything like that, I wish we could have went back to normal and started playing, but that extra couple months of summer probably helped me get back to 100 per cent. A big summer in the gym where I got in better shape and stronger definitely helped me a lot."
Dubois agrees that Stanley made the most of the struggles he faced and turned it into motivation for a big off-season.
"We noticed it right away from the first day of training camp. He was a lot leaner than the year before and more fit," remembered Dubois. "I think the fact he had to face the adversity. The fact the (2018-19) season didn't go the way he wanted it to, probably pushed him to make that effort last summer. Now it's paying dividends."
With files from Austin Siragusa and Daniel Fink