Rick St. Croix Leaves a Lasting Legacy
By: Manitoba Moose Staff | Published: August 19th 2021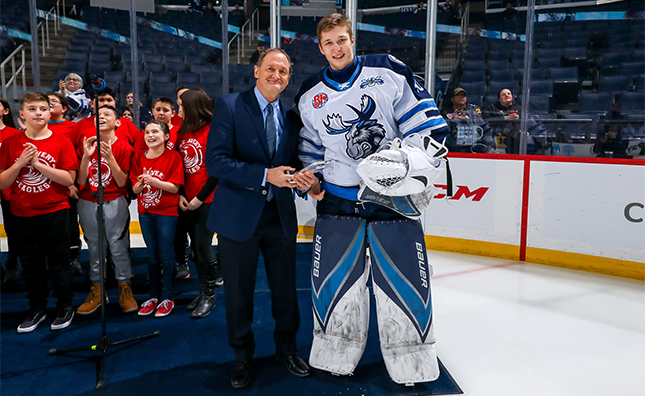 On August 5, 2021, the Manitoba Moose announced Rick St. Croix retired from his role as the organization's Developmental Goaltending Coach & Scout. Following the announcement, players and staff reminisced about St. Croix's time around the rink. One common trait mentioned repeatedly that will be missed most: Rick's smile.
"He brought a huge smile and a great laugh everywhere he went," said Winnipeg Jets netminder Eric Comrie. "He was always one of the most positive people in the room and he just loved the game of hockey and loved being around it… When you received that big smile from Rick St. Croix you were extremely happy to be around him, extremely happy just to interact and be in the same room as him."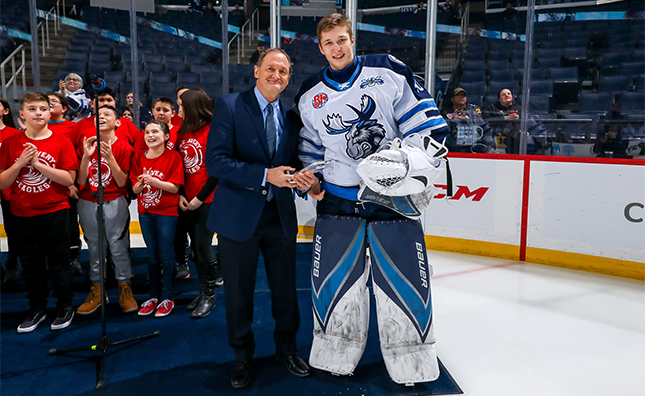 St. Croix spent 17 seasons of his storied 24-year coaching career within the Winnipeg organization. His first job behind the bench was as an assistant coach for the Winnipeg Jets (1987-89).
"We needed a goaltending guy," explained Moose General Manager Craig Heisinger. "Saint was local, he had pedigree, he had credentials behind him, and he was here for a long time. He left at different periods of time. He left to go to Dallas for a bit. He left to go to Toronto for a bit. But it seemed like he was here from day one. I know he wasn't, but I think that's a credit to him and that's how we perceive him."
Despite the aforementioned detours, including four seasons with the Dallas Stars (1998-03) and three seasons with the Toronto Maple Leafs (2012-15), St. Croix always made his return to Winnipeg. The feeling was mutual, as St. Croix left an impactful impression on the organization.
"I remember we were talking about goalies for the draft," said Heisinger "I think he only said it once, but it stuck with me. I remember Kevin (Cheveldayoff) saying I'm good with taking a goalie, but I'm not taking a goalie that Saint doesn't approve of. That always stuck with me. It didn't take Saint long to gain the confidence of other people. I think that's a real feather in his cap and that's a legacy that will follow him around."
The Kenora, Ont. product was originally drafted by the Philadelphia Flyers in the fourth round (72nd overall) in the 1975 NHL Amateur Draft. St. Croix's professional playing career spanned 11 seasons. The netminder appeared in 130 career NHL contests split between the Flyers and Toronto Maple Leafs where he marked a career 49-54-18 record alongside a 3.71 goals-against average and a .876 save percentage. St. Croix also appeared in 135 AHL games split between Springfield, Maine, Philadelphia and St. Catharines. St. Croix earned the Harry (Hap) Holmes Memorial Trophy in recognition of earning the league's lowest goals-against average (2.92) following his 1979-80 campaign with the Maine Mariners. He also was awarded the James Norris Memorial Trophy for fewest goals allowed in the 1985-86 season with the Fort Wayne Komets (IHL).
Following the 1985-86 with the Komets, St. Croix hung up the pads and turned his attention away from the crease and towards another dream.
"Back in '87 when I was with the Winnipeg Jets, I was the young, aspiring goalie coach…" said St. Croix. "I've always had a landing spot with the Moose and the Jets. I'm very grateful for that, as I'm grateful for all the years in hockey that I was able to muster up."
Although he hailed from the neighbouring province, St. Croix whole heartedly embraced Manitoba and its community.
"He truly shows you what Winnipeg is," said Comrie. "Just really good human beings who care a lot about each other and that's just what he is. He's a human being that cares so much about the organization because he's a true Winnipegger and he put so much effort and time into the organization. He's going to have a lasting effect."
Congrats Rick! Thank you for everything ❤️

— Eddie Lack🇸🇪🇺🇸🇨🇦 (@eddielack) August 6, 2021
St. Croix was a mentor and coach for many notable goaltenders during his career. Connor Hellebuyck, Cory Schneider, Eddie Belfour and Roman Turek to name a few. A flood of well wishes came pouring in following his retirement announcement from netminders including Chris Driedger, Garret Sparks and Eddie Lack.
"He's amazing," said one of St. Croix's recent pupils, Moose netminder Mikhail Berdin. "He's been a big part of my career and he's a great person. He helped me a lot. I just love him you know."
St. Croix was passionate about developing young netminders and bringing the vision of their careers to life. Despite the impressive resume of numerous netminders St. Croix inspired and developed into household names, he shows humility and gratitude when looking back on their careers.
"I've always felt that I was here to help them," started St. Croix. "I never really thought or felt like I earned or deserved much credit for that. These are all good goalies that the Moose had. And I was fortunate to be just part of their life for a short time. Each as an individual, each was different. Look at Connor Hellebuyck who is very unique in so many areas of his game. I always felt in most cases I was thinking I was learning more than I was sharing. I was watching him and in conversations with him. I hope I provided some level of expertise that helped him, but I always felt that I benefitted certainly as much or even more than they did for me."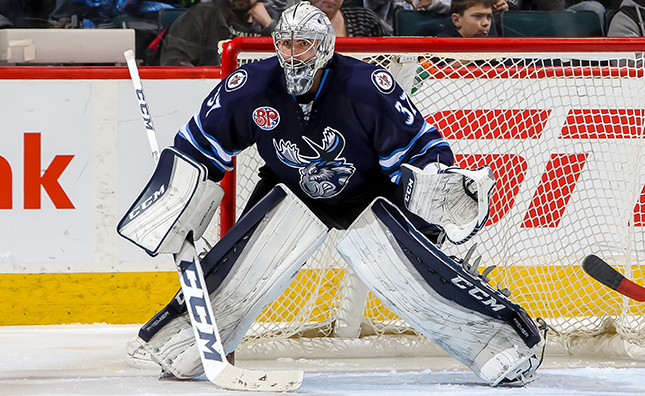 Another netminder who worked with St. Croix during his career will take the reins as developmental goaltending coach and scout for the Moose. The same day as St. Croix's retirement was announced, Drew MacIntyre joined the organization.
"(Rick) is way more than a goalie coach," said MacIntyre. "He's always been a great friend. Been with me in a couple times when my career was on its ninth life and he was there for me."
Early in MacIntyre's career, the netminder was trying to earn his way into the Manitoba lineup. On September 12, 2006 the Vancouver Canucks acquired MacIntyre from the Detroit Red Wings and assigned him to the Moose. St. Croix was the assistant coach for Manitoba at the time and assured the netminder he was confident in his play and made him feel as though he had a home within the franchise.
"Rick was a big part of letting me know that I belong," said MacIntyre.
St. Croix offered his seal of approval for the new developmental goaltending coach & scout that is set to take on the position for the 2021-22 season.
"He's pretty special that one," St. Croix said of MacIntyre. "I think you're going to love him here. I think he's a really good man on and off the ice. I think the goaltenders will really benefit from him."
Following an illustrious career, St. Croix is at peace with his decision that it was time to transition away from life at the rink and towards what's next.
"I'm happy about it," St. Croix said. "I'm feeling strange some mornings. Just wondering what's the next chapter going to become or unfold to become… certainly family, it's going to be a great opportunity to spend more time with them."