Stoykewych playing the mental game
By: Mitch Peacock | Published: August 10th 2017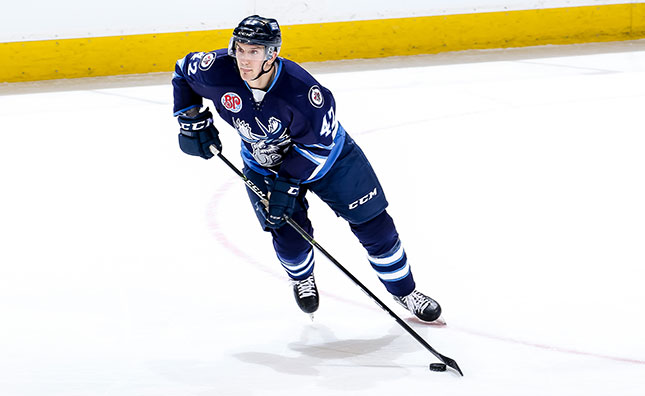 Manitoba Moose defenceman Peter Stoykewych is finding success both on and off the ice.
Stoykewych owns a Bachelor of Arts in Economics from Colorado College, but took a significant number of math courses along the way to add a different dimension to his higher education.  Now the Winnipegger is working on a Master of Business Administration (MBA) through the University of Colorado while climbing the pro hockey ladder.
Back in May, Peter added another special honour to his resume when he was presented with the St. Nicholas Men's Club Ukrainian Sportsman of the Year Award.
It's a tribute to his heritage and athletic prowess.  The occasion offered another glimpse into the type of personality he brings to the Moose.
"Every time I write my last name I realize I'm (of) Ukrainian heritage," he said when asked about the nod before adding. "That's something that is not lost on me. To know where you came from and know your roots."
A person with many and varied interests and talents, you may wonder where hockey fits in for Stoykewych.  It's very easy to pick out after a recent morning of off-season workouts that his on-ice performance is a very high priority.
ON THE RISE
Peter's first full season in pro hockey coincided with the return of the Moose to Manitoba.  It featured a different kind of schedule than he'd experienced at Colorado College, a lengthy injury absence, and plenty of learning on the job.
Last season, his second, Stoykewych put those lessons to work and continued to grow, playing 72 of the team's 76 games, skating in all situations at times.  The stout defender also raised his point total from seven to 20 (including his first five AHL goals).
"I think (I'm) just kind of getting started here – which is the feeling I have. And, I'd like to surpass anything I've done in the past two years. And, I'd like to be playing well into May and June for sure."
Aside from his playoff ambitions, Peter is keen to continue to refine his defensive game and improve the offensive side of things and it only makes sense he plans to lean on his strengths to do so.
"I try to play cerebrally, and that's kind of how I live my life – kind of trying to think my way through things.  So if I could just be smarter in a few more areas like training, knowing when to push (or) sit back on the ice I think I can do way better than I did last year."
LOVE OF THE GAME
Let's face it, lots of us love hockey – watching it, playing it, talking about it with friends.  However, there's a different level that's demanded of those who play it for a living.  Those demands can test a person's passion for the game, and it's safe to say Stoykewych is passing that test too.
"I love being at the rink, and I love the game. I like being around the guys, and I think a lot of time it's kind of – from the outside world – you don't understand how hard it is as a pro to come and play 76 games a year. To be there every night, and to be able to perform every night. That's something really you can only do if you enjoy being around it."
Part of what Peter appreciates about pro hockey life, and the challenge of its gruelling schedule, is going through it as part of a close-knit group.
"You're around people that share that experience with you – it becomes a lot easier. And, being in a locker room too with a bunch of guys going through the same thing – I get the sense that (in) a lot of office buildings you can't talk the same way. Not in terms of "locker room talk", but you just can't talk to guys in the same way that we can because of what we go through with the other guys every single day and I think that helps a lot."
As Stoykewych explains, it's about friendship in some cases, but above all it's about a bond that says on the ice, 'no matter what happens we're all in this together'.
"You don't have to like everybody in the room. You don't have to go out for dinner with everybody in the room, but you respect what they're doing for you and they respect what you're doing for them and that's what it's kind of all about."
PERSPECTIVE
While Peter's insights give a glimpse into the unique nature of what drives him while player the game at an elite level, he offers up a closing thought that reminds you he's got a balance or sense of perspective that's anything but regular.
"(In our line of work) you get to see places, you get to meet people, you get to do things that 99% of the world can't do because they have to go do other things – because they can't play hockey – you know what I mean. It's a lot more than just what happens on the rink. It's a lot of stuff that happens, and opportunity that you really come in contact with when you're off the ice and that's something that hopefully will help you once you're done as well. The people that you meet. The places that you've been and, kind of, the experiences you can take with you into your next chapter of life."
Now that you've had a glimpse into what makes Peter Stoykewych tick, you'll likely agree, the next chapter is sure to be well-written.