Travelling Man
By: Mitch Peacock | Published: July 20th 2018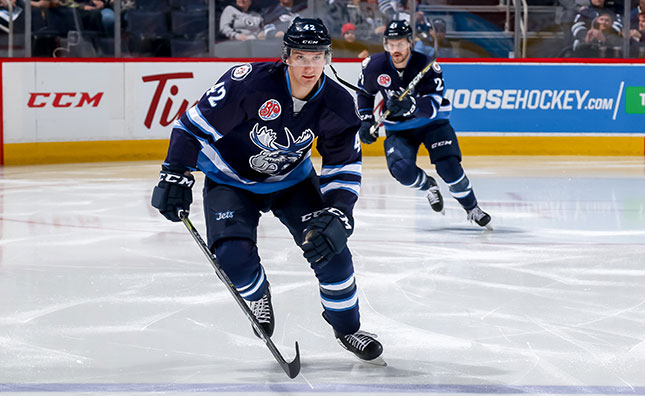 Here's a quick hockey trivia brain-teaser for you.
There are only three Atlanta Thrashers' draft choices still in the Jets' organization.  Who are they?
I'll give you a hint…
Two play for the big team, and the third is a team-leader and stalwart on the Moose blueline.
Ready?
Bryan Little and Ben Chiarot are the two Thrasher picks with the Jets, and Winnipeg's own Peter Stoykewych is the member of the province's AHL outfit with ties to Atlanta.
In fact, Stoykewych owns the distinction of being the very last pick the Thrashers ever made.  However, limiting discussion about the Winnipegger to hockey misses out on the bigger picture.
The Winnipeg South Blues alumnus owns a B.A. (Economics) from Colorado College, and is on track to earn his Master's (M.B.A.) from the University of Colorado within the next year.
Just a little side project while playing in one of the best hockey leagues in the world…
More than a hockey-playing book-worm, Stoykewych has found a hobby that's fast becoming a passion.
Travel.
PERSPECTIVE
You don't have to be a pro athlete and scholar to know life gets pretty hectic.  We can all use a breather to gain some valuable perspective, and Peter Stoykewych is right there with you on that.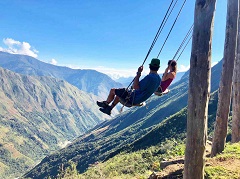 A couple of summers ago, the Moose defender took a trip down the Pacific Coast, from Vancouver into California.  Last summer he was off to Europe, touring Greece and Italy.
Now, the recently-turned 26 year old is savouring the experience of a visit to Peru, and famed Machu Picchu, earlier this month.
"It was so surreal to see these places, and these things, that you only see in movies and TV. It seems so unrealistic, when really in just a couple of short plane rides, you could go and experience something so off the grid, with such ease," said Stoykewych by phone from his family's Winnipeg home.  "It's amazing how people are so willing to help you along the way.  The people that you meet, even when you don't speak the same language as them.  Learning about these people, and these places, is just an entirely different way to learn and soak in parts of the world."
Don't worry, the veteran defenceman isn't forgetting about preparing for the upcoming season. The trek to Maccu Picchu is five days in length, covers about 80 kilometers, and takes those who embrace the journey approximately 5,000 meters up.
It's a workout and a system re-fresher all rolled into one.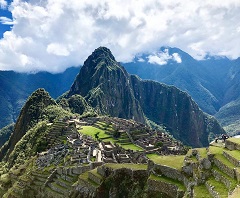 "One of the best parts about this trek is something as simple as not having (cell) service for five or six days.  (I just) put the phone in the bag, and left it there for the entire trek.  It's interesting what your mind goes to when you're not constantly being reminded of emails and texts and obligations you have on a day-to-day basis. It's rather interesting what you think about, and what you come across," Stoykewych shared before adding a thought most of us can relate to. "It's kind of amazing what you can see in this world when you just look up from your phone now and then."
TEAM WORK MAKES THE DREAM WORK
Taking these kinds of trips isn't like hopping in the car and driving to the lake for the day.  They take planning.  While Peter has proven to be a man of many talents, planning trips apparently isn't one of them.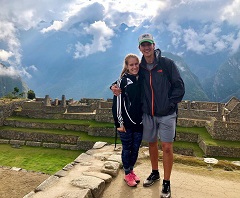 Girlfriend Carina Lauzon, a medical student at the University of Alberta and former varsity soccer player at Colorado College, does most of the heavy lifting when it comes to making sure everything goes off without a hitch on their excursions.
While the two visited Peru as a couple, their journey in the Andes happened as part of an international group that gelled quickly on the quest as strangers became team mates.
"Ultimately this trek was one of the most team-based things I've ever seen. We were in a group of eight. Me, my girlfriend, two other Canadians, and four people from the Netherlands were there with us," said Stoykweych, adding the group continues to keep in touch. "You're climbing mountains with people you just met five hours ago.  You're encouraging each other, learning about each other's lives and back stories.  We really became one of the more tight-knit teams in five days that I've ever seen. So, there are things you can learn out there that you can bring back to our world (hockey) and help our team as well."
Whether it's translating the perspective gained from getting out in the world to his career, or applying it in his daily life, Peter is optimistic his curiosity for travel will serve him well over time.
"It's great to see how different people live. It gives you a respect for what we have here at home. That is often lost in the hustle and bustle of our everyday lives.  It's great to get out there, see things from a different view and meet different people and share experiences that they've had.  Something kind of just sticks with you, and hopefully you can pull it out at the right time when you need it down the road."
HOCKEY JOURNEY CONTINUES
From a rookie hoping to find his way in pro, to having three years under his belt, and signing a new two-year AHL deal with the Moose, Peter Stoykewych is enjoying the ride fuelled by his determination to be his best and be true to himself.
Fresh off an impressive trip to the Central Division Final, and his best season as a professional, the blueliner isn't satisfied.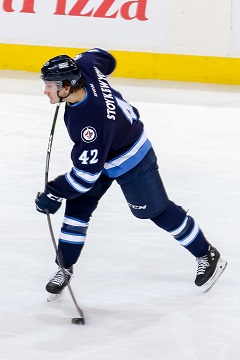 "You look back and you always just want more, which I guess is human nature in a sense, but you always look back at points and say I could have done this better.  I could have done that better to get us to a further level than reached. I'm, I guess, proud of the guys and happy with the accomplishments we had last year in relation to the prior years, but I still think we have a long to go and obviously a lot to learn before we can be the ones playing at the end of June.  It is still hard to sit on the sideline and watch those other teams compete in late June."
As for the personal side of moving into his fourth year as a member of his hometown team, Peter says consistency is key.
"Every year I've come in with the same mindset, and I don't think that ever will change or is ever going to change. I want to come in there and, number one, do the best I possibly can every time I go out there and, number two, I want to be myself. I think so many times along the way, regardless of what you do, you find yourself changing when you don't need to," he says with an earnestness more than a stubbornness. "You just need to be yourself and do your thing. I think that's a lot of the reason (the Moose) have shown confidence in me.  I have just been able to be myself around the room.  I think if that's what they're showing confidence in, that's what I need to bring."
It's a common-sense perspective, fortified by a unique mix of balance and drive to explore his potential. These are the ingredients that make Peter Stoykewych far more than the answer to a trivia question.