Sutter gearing up for make or break season
By: Mitch Peacock | Published: August 4th 2017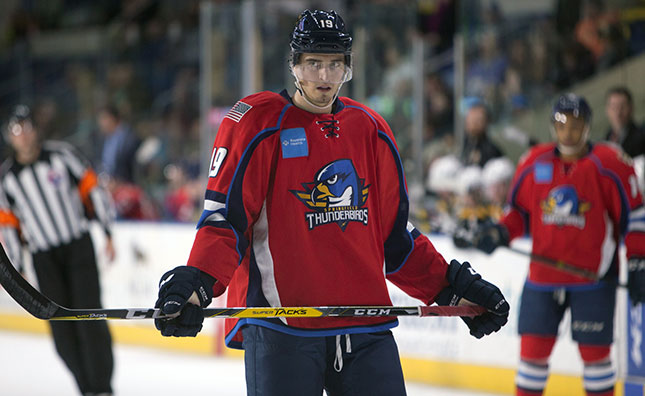 Alright, let's get the obvious question out of the way.
Yes, Brody Sutter is a member of "that" Sutter family and proudly so.  The way Brody sees it, he's always been part of one of hockey's most historic families.  It's normal to him to have a dad who won four Stanley Cups, and five uncles who've played in the best league in the world.
It was also normal to hang around a National Hockey League dressing room as a kid in Florida and watch pros go about their daily business.
Consequently, it was easy to pick a career path, given the way the people he's closest to live with such passion about their work.
"It's just what I've grown up as, and what I know. Some people ask if (being a Sutter) adds more pressure and I don't really think it does. I was never pushed into hockey by my family. I was never forced to play or anything. It's just when you grow up around the game you fall in love with it and you want to forge your own path and I've been fortunate to play five years pro now and hopefully it leads me to another five to 10 years pro."
In all, nine Sutters – including Brody – have played in the National Hockey League.  It's a fact he appreciates, but certainly doesn't see as some sort of guarantee, or free pass, to a full-time job in the bigs.
Instead, he's agreed to an American Hockey League contract with the Moose and is working to earn one of those jobs coming off the toughest season of his career.
ROUGH RIDE
In four full campaigns as a pro Brody Sutter, averaged 64 games-played per season, including a dozen games with Carolina Hurricanes.  Last season was different.  If it wasn't for bad luck he wouldn't have any luck at all.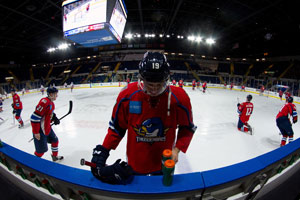 After a trade sent Brody from the Hurricanes organization to the Panthers, he suffered a shoulder injury in just the third game of the year while playing for the AHL's Springfield Thunderbirds.
Following a three-month recovery for his shoulder problem, he returned to the Springfield lineup only to suffer a broken foot after just four games.
Determined to stay in the lineup, Sutter played with the foot injury, but two weeks into that grind he tore ankle ligaments and was shut down for the season.
The numbers from 2016-17: three injuries, just 19 games played and a season like no other for the 6'5" forward who is confident the best is yet to come.
"I still feel like I'm developing.  I'm 25 now, but with me basically missing last year and me kind of growing up in Florida I feel like I'm a late bloomer.  I feel like there's still some area for growth in my game and for me to get to the next level."
KEY TIME
The business of pro hockey can be harsh, and Brody Sutter has the upbringing and experience to know that as well as anyone.  Because of that, he's well aware the time is now for him to get healthy, play lots of hockey, and continue to build his game.
"To be honest, I kind of feel like I'm at a make-it or break-it point in my career," said the Viking, Alta. native. "I feel like I'm good enough to be an NHL player, but opportunities haven't worked out. (I've) run into situations where you're kind of blocked by some players, but I still feel like I'm a good player."
He was good enough to post 92 points in 230 AHL games while showing the ability to play as a centre or a winger and contribute on special teams.  Signs are positive that Brody will be ready to take his shot this winter.
Sutter says he returned to full training May 1, and has been able to run without difficulties since late May – all before returning to the ice in early July.
WINNIPEG LINK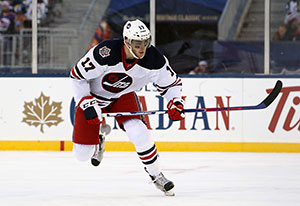 Brody has never suited up for a Winnipeg-based team, but feels like he has a pretty good sense of what it'll be like thanks to being good friends with Jets' centre Adam Lowry.
The Sutters and Lowrys crossed paths in Florida in the mid 90's when the Panthers were establishing themselves.  Brody's dad, Duane, was on the Panthers' coaching staff and Adam's father, Dave, was a hard-working winger for Florida.
Over the years, the two families have been linked and Brody has lifelong friends in Adam and his brother Joel.  So when it comes to the idea of living and playing in the Manitoba capital Brody has been well-briefed.
"I've heard (Adam) rave about it now for three years, and talk about how good of a city it is and how underrated it is," said Brody from his off-season home in Calgary. "I mean, hearing him talk about how much he enjoys the city definitely made it easier to sign somewhere like that – I'm excited."
Healthy again, and clearly motivated, that excitement is understandable.
It's a combination that might just help Brody reach his goal of a spot in the NHL, and maybe someday find a place in Jets' colours along with his good friend.
Brody Sutter photos courtesy Springfield Thunderbirds Media