The information collector
By: Mitch Peacock | Published: May 26th 2016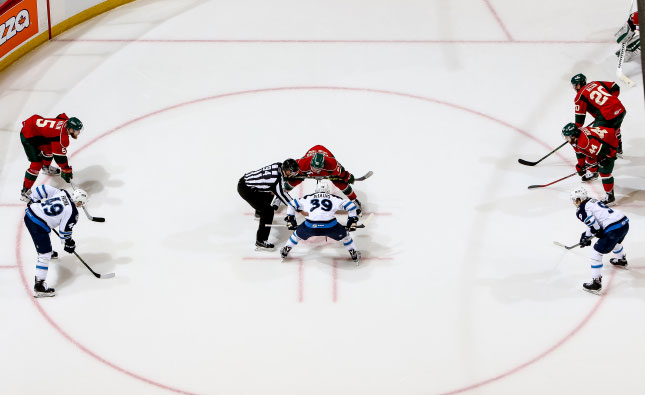 Whenever the Manitoba Moose need a player they know exactly who to call.
Even when things get crazy, as they did late in the season, and the demand for help is high thanks to injuries and call-ups the answer is the same.
Bruce Southern.
The Jets' media guide lists the Winnipegger as a Pro Scout, but he likes "information collector".
Need a gritty winger? Centre with offensive up-side? Defenceman who can help out on the penalty kill?
Bruce has a few options for you.
LONG AND WINDING ROAD TO SCOUTING
Southern wasn't always a scout.
He's coached at the MMJHL, Jr A, and Major Jr levels, not to mention a good run as an assistant coach with Jets 1.0.
But when it comes to his full-time scouting career at the pro level it all got going with the expansion Ottawa Senators.
And it was in those early days Bruce learned what it took to be successful at the job.
As he recalls it he asked his boss, Jim Nill (current Dallas Stars GM), how many games he should watch in this new role.
You know, to be sure to be of help to the organization.
"When I ask you about a player you better know," answered Nill, says Southern with a laugh.
And he's made sure he knows ever since.
BUSY WINTERS
After stops with the Senators, Wild, and Sharks Southern was hired by Randy Carlyle to help the IHL Moose compete with the league's best and he's built a trust that's seen him remain with the organization to this day.
This past winter Bruce says he saw about 160 games in the American League and ECHL combined.
Another way of looking at it is to say he saw more than two seasons worth of games in one winter, an epic load that includes seeing every team in both of those leagues at least twice.
EVER EVOLVING LIST
So what comes from watching so many games?
A list.
That's it you say, a list?
But it's so much more than that, it's real options for the team whenever the need arises.
This is about preparation, the club doesn't simply look at scoring stats and start making cold calls, thanks to Bruce they know who's out there and what they bring.
The list is made up of players at every position, and in every role, and it's always being tweaked.
At one point this season (in late March/early April), the Moose had five or six players on PTO's in the lineup and without Southern's handiwork the club could have been in serious trouble.
Instead, players like Brant Harris, Darik Angeli, Dan DeSalvo, Jake Baker, and Sean Escobedo helped fill voids and enabled the team to compete while sending a handful of players to the Jets and losing another bunch to injury.
CHAIN REACTION
Day or night during the season Southern is on the case and available to contribute.
Say the Moose are in Chicago and lose a player to injury during the game; it's as simple as the coach calling GM Craig Heisinger after the final horn sounds.
From there Heisinger reviews the list Southern has prepared, then the two usually talk about options before reaching out to clubs to inquire about adding a player to fill in.
MORE HITS THAN MISSES
Bruce admits some players come in and after a game or two show they're not a fit, but more often than not the Moose get someone that can do a job.
And sometimes a player takes his chance and makes it into something more.
Southern points to defenceman Max Fortunas and centre Alex Bolduc as two who were given a look with the Moose and turned it into an extended stay.
Fortunas just finished his 11th straight season at the AHL level and has nine NHL games to his credit – a record others might not have seen coming after he spent more time at the ECHL level than the AHL level in his first two pro seasons.
Meanwhile, Bolduc emerged from ECHL Bakersfield to earn full-time work at the AHL and beyond starting with the 2007-08 season. Heck, the wiry forward from Quebec even managed 65 NHL games and spent this past season in the KHL.
WHAT'S HE LOOKING FOR?
Fortunas and Bolduc are great examples of players seizing opportunities, but what do they have in common?
If you're going to catch Bruce Southern's eye he says there are three keys: hockey sense, a high compete level, and skating – in that order.
A little surprised, I asked why skating is third to which he quipped, "Well, what if he's always going the wrong way?"
For Southern hockey sense leads the way because it's critical to player being able to fit in quickly and earn the coach's trust in a short period of time.
READY FOR MORE
The Moose season may be over, but Southern continues to study saying he watches hockey on TV for hours each day.
And, he's already thinking ahead to next season which starts with a trip to Traverse City, Michigan for a pre-season prospects tournament when the tweaking of that list begins again.
"I love the game," says Bruce showing no sign of losing interest after so many years of moving from town to town and rink to rink. "I'm still really into what's going on in the game."
That's good news for the Manitoba Moose, and Winnipeg Jets, and exactly the way it has to be to be a successful "information collector."