The new bench boss
By: Mitch Peacock | Published: June 3rd 2016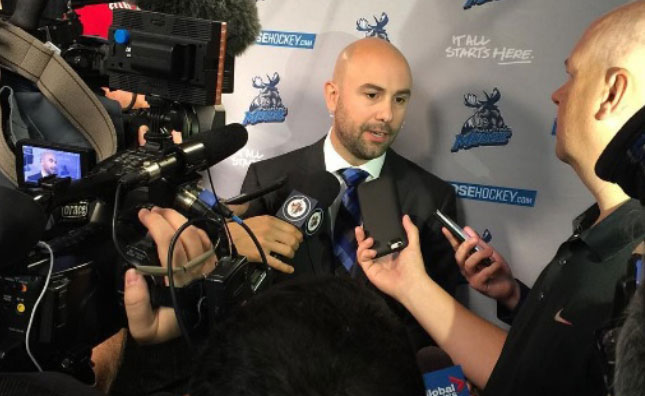 On the day he was announced as the new head coach of the Manitoba Moose Pascal Vincent stressed the importance of being honest with people as a pillar of success, but it turns out being honest with himself was the key to his ever-evolving career at hockey's highest levels.
PLANNED TO "TURN THE PAGE"
After a four year playing career in the QMJHL, Pascal spent a season with Knoxville of the ECHL and it was that experience that nudged him toward coaching.
You see, for many years, his goal was to play in the NHL but that time in junior and the minors led him to believe he'd gone as far as he could in uniform.
So, his plan was to "turn the page".
He applied to the University of Ottawa and his vision was to become a physiotherapist, maybe even a doctor, someday.
But, with hockey still on his mind and a new season just around the corner, he got a call from Saint Jean Lynx head coach Claude Therrien with an offer to become an assistant coach.
The pay was modest ($250/week), and he'd be billeted out, but the chance to stay in the game was more than enough.
After a little consideration he took the job, and told his parents he'd go to school 'next year'.
A choice that seemed risky to them, but one that makes sense when you consider Pascal's view.
"If you follow your heart and you do the right thing for yourself, and if you have a family, for your family. I think you can't go wrong."
STAYING THE COURSE
Fast forward to last week, and Vincent now finds himself a head coach in the American Hockey League.
It's a long, hard road to overnight success they say, and that's true for Pascal as much as anyone, but don't tell him he's grinding it out.
The 44 year-old's love of the game, combined with a passion for connecting with and helping others, have guided him through 12 years as a major junior head coach (a number of those in the dual role of general manager and head coach), and five years as an NHL assistant coach.
Interestingly, while Vincent admits he'd like to be an NHL head coach in the future, he is very clear in saying what's happening today (or now) is the most important thing in his world.
DEFINING SUCCESS
Even in spending a short time with the new Moose bench boss it's obvious he's a people-person, a strong communicator, and passionate about success.
But, what is success?
"We're in the business to win, and at the NHL level it's win at all costs, "said Vincent when asked for a definition.
But, having worked at the junior and NHL levels he knows there's a step in between and that to help the Jets soar he's got to prepare players to be their best while pushing for victories and climbing the standings.
"Evaluating the end result only, to know if you had some success or not, or in order to evaluate yourself or a team it's one way of seeing it," he said in a one-on-one interview inside the Moose dressing room on the day of his unveiling.
"My goal is to help them (Moose players) mature and become the best people they can be, and I'm convinced – 100%, by doing that it's going to help us win hockey games and the Winnipeg Jets will get closer to its goal sooner than later," he added.
FAMILY FOCUS
After five years with the Jets, Pascal, his wife Josee and five year-old daughter Geneve are now Winnipeggers and proudly so.
Vincent stressed that the opportunity to lead the Moose was largely appealing because he could continue to help the Winnipeg Jets without having to up-root his family from a place they've come to love.
Meanwhile, of course, he remains very close with his Montreal-area based parents and was able to have some fun with them when he called to let them know he was taking on a new role in the organization.
You guessed it, he told them he'd go to school 'next year'.
And, I suppose, in a hockey sense you could say he'll be there in the fall when the coach continues to learn while taking on the task educating the Jets of the future.