The power of three
By: Mitch Peacock | Published: December 15th 2015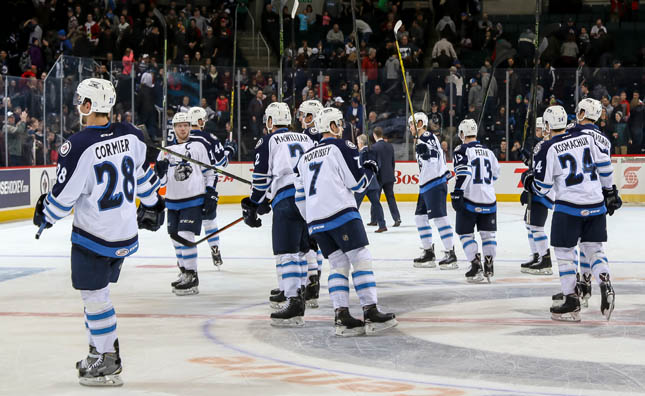 This year's Moose had their most productive two game series of the season this past weekend.
And it was, in large part, due to something you might call "the power of three".
Manitoba picked up three points from two home games against a Milwaukee team that's just four points out of first place.
The win and shootout loss combined to improve the Jets' top affiliate to 3-1-0-1 in its last five games at MTS Centre, a nice step on the climb to making home ice a tough place for visiting teams to play.
Extra impressive when you consider the team got it done without leading scorer JC Lipon (upper body) and top scoring defenceman Brenden Kichton (upper body).
But, don't let the "three" points or the "three" wins in their last five at home fool you, that's not the power of three I'm talking about.
Many factors combined to make for the two solid showings including steady goaltending, solid penalty killing, and competitive 5-on-5 play.
Also, a big factor was scoring.
Julian Melchiori, Matt Fraser, and Josh Morrissey each scored their first goals of the season against the Ads, but that's not the "power of three" I'm thinking about either.
That said, it's huge those three players found the back of the net while Jay Harrison and Ryan Olsen cashed in for the first time since opening weekend in Toronto.
Scoring, and not just from the guys who've got a few, but from as many players as possible is nothing but a positive for the goal-starved Moose.
Even after their six goal weekend showdown with Milwaukee, the Moose remain the lowest scoring team in the American Hockey League averaging just 1.78 goals/game.
So, let's get to this "power of three" nonsense I've been teasing.
Though it's much easier said than done, scoring three goals in a game is massive.
Not just for the Moose, but for any team these days, and the teams who can get to three fairly regularly (while  keeping the puck out of their net at a decent rate) are the teams that are giving themselves a chance in the race for playoff spots.
Look no further than the Central Division where the Moose reside, every team ahead of Manitoba is averaging 2.79 goals-for/game or higher.
First-place Rockford is at almost exactly three goals/game; 2.96 (10th best in the AHL).
The sizzling Grand Rapids Griffins have won eleven games in-a-row; their goals/game? How about 2.91.
Charlotte (3.04) and Chicago (3.13) are among the highest scoring teams in the League, but their so-so defensive records are holding them back.
Just the same, the ability to score has them in the mix, and that's what the Moose are aiming for.
Manitoba hasn't scored more than three goals in a game this season, but when they get to three they are an impressive 6-2-0-1.
That's the "power of three", and though two games may not constitute a trend the fact the team scored three in each game on the weekend en route to a win and a shootout loss suggests what's possible when things go their way.
Oh and next up for the Moose?
The San Antonio Rampage, a team that just dropped five straight on home ice thanks in part to scoring just two goals per game over that stretch.
Just sayin'…
The Moose host the San Antonio Rampage, Dec. 16 and 17 at 7pm. Tickets are available at moosehockey.com/tickets.
And, you can tune in to moosehockey.com or TSN 1290 Wednesday for complete coverage starting with the pre-game show at 6:45pm.