Time well spent
By: Mitch Peacock | Published: September 22nd 2016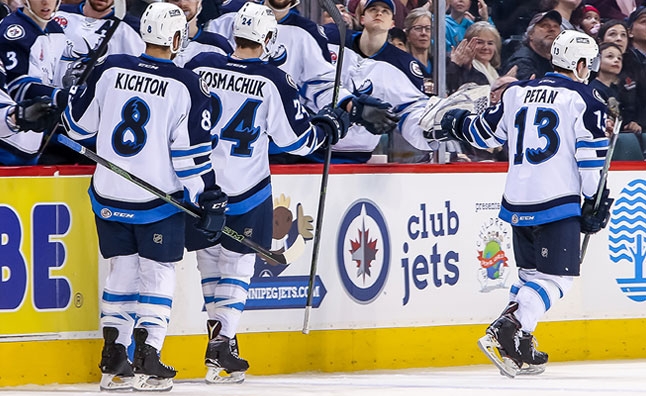 The Manitoba Moose had one of the youngest rosters in the American Hockey League last season.  That fact led to some growing pains, but many notable gains as well.
Among those gains – four players who showed enough development from their time with the Moose to earn their first NHL opportunities (Scott Kosmachuk, JC Lipon, Josh Morrissey, and Chase DeLeo).  A fifth turned a mid-season stay in the minors into an extended audition with the Jets to end the campaign (Nic Petan).  With Jets camp about to begin, I asked some of those prospects about how their time in the AHL helped them prepare to push for the big club.  Common themes emerged.
IT TAKES TIME
The first year playing professional hockey can be a tough one.  It's common to see rookies start the season slowly and show growth after returning from the Christmas break.  Obviously there are exceptions production-wise, but every player goes through the process of adapting to a new lifestyle.
Nic Petan describes his rookie experience as a "learning curve year".  The skilled forward feels the jump from junior hockey to playing for a living is a big one.  It came with the realization of daily life of being a pro is something new, involving adjustments on and off-the-ice.  Fellow sophomore Josh Morrissey shares those views.
"Last year I think the first half of the year was a lot of learning for me.  I think it was definitely an adjustment period for me after playing another year of junior between my last American League experience (a 2014 Calder Cup playoff run with St John's)."
Petan built his way up to 32 points in 47 AHL games with the Moose after starting 2015-16 with the Jets.  Morrissey totalled 22 points from the Manitoba blue line – including eight in his last eight Moose games before injury cut his season short.
"I think my game kind of took off in the second half.  I started to find the scoresheet a lot more, but I think that was just an indication of how I was around the puck more, making more plays, had a lot more confidence," said the 2013 first-rounder on a break from training at MTS Iceplex. "So going into this year it really just gives me confidence knowing I played a year of pro."
CONFIDENCE
No matter what you do for work, learning or recreation; confidence is a big part of being your best.  Hockey players are no different.  Players like Petan and Morrissey say playing for the Moose helped them feel good about their games at a new and more challenging level.
Once the prospects picked-up some early lessons and put them to use at an elite level; the game came more automatically to them.  They did less thinking on the fly and let their talents come out.  There's also familiarity that comes with being around a new group of players, staff and settling into a new environment.  Put it all together and you have a positive athlete ready to push for more this fall.
"Coming in I feel a lot more comfortable – knowing a lot more of the guys – closer with everybody and just feeling more at home," said Petan who worked on adding speed to his game this off-season. "Even in these skates (informal workouts at MTS Iceplex) before camp (I'm) just feeling a lot more comfortable."
Sharp-shooting Scott Kosmachuk knows what Nic is talking about.  The third year pro openly credits his time with the Jets' AHL affiliate for helping him develop that good feeling about what he's doing.
"A big thing in my game is confidence. I've always had the speed, I think, to compete at this level and the skills are coming.  It's just attention to detail, making the right decision at the right time and not being too fancy with the puck.  I think, definitely, confidence just brings my game all together."
 FINAL TAKEAWAY – A BIG ONE
Time to grow – makes sense.
Confidence – a major plus.
There's one more thing the Jets prospects I spoke with gained from spending time in the American Hockey League.
Hunger.
Not the kind that leads you and I to order a pizza.  The kind that burns like an internal fire, driving you to give everything you have to work towards your goals.  Every player I talked with replied with purpose when asked about striving to make their NHL dreams a reality.  Josh Morrissey might have spoken for the group of up-and-comers when he thought about where he stands going into Jets camp.
"I've had a call-up.  I know all the guys on the Jets roster.  You just feel more comfortable.  Also, after having a taste, it makes you want to be there (NHL) that much more – that's for sure."
It seems "Moose time" is time well spent.