Trending upward
By: Mitch Peacock | Published: March 3rd 2016
Ask anyone close to the world of pro hockey and they'll tell you the American Hockey League is about development now more than ever.
With National Hockey League teams pushing for success, while operating in a salary-cap world, it's critical that clubs draft well and then grow those prospects for futures at the highest level.
The Manitoba Moose entered this season with one of the youngest rosters in the American Hockey League and a mission to compete hard every night, while helping those young pros become well-rounded pros.
Things started slowly, in terms of wins, but the seeds planted last fall by Head Coach Keith McCambridge, Assistant Coach Mark Morrison, and Goalie Coach Rick St Croix have been carefully cared for all the way along.
Now those seeds are starting to bear fruit.
As the team enters March it can look back on February as its winningest month with a 6-5-1-1 mark, and with just three regulation time losses in its last dozen games (each by a single goal).
Dig a little deeper and you'll find a surging power-play that's gone 9/32 in the last ten games or a staggering 28.1 %.
Oh, and how about that penalty-kill at 40/44 in the last ten starts or 90.9%.
An offense that's had trouble finding the net for much of the season has started to mature producing five games with 5-goals or more in the last dozen outings; including a season-high seven goals in a 7-2 home ice win over Charlotte last Saturday night.
The Moose had a 1.36 goals-per-game average back in October and last month in February it was all the way up to 3.53 goals-per-game.
Of course it takes a daily dedication from each player for that kind of progress to take place and in recent weeks their commitment to learning is showing itself on the ice.
Players like JC Lipon, Scott Kosmachuk, Nic Petan, Chase De Leo, Austen Brassard, Julian Melchiori, Brendan Kichton, Josh Morrissey, Eric Comrie, and Connor Hellebuyck have been putting up impressive numbers to help push the team forward.
Plus, veterans like John Albert, Patrice Cormier, Thomas Raffl and Andrew MacWilliam (and Matt Halischuk before his recent call-up to the Jets) have continued to set a daily standard for their teammates to strive for while also producing in key situations.
There are still 20 games left in the season, but the trend for this group is upwards as evidenced by this chart.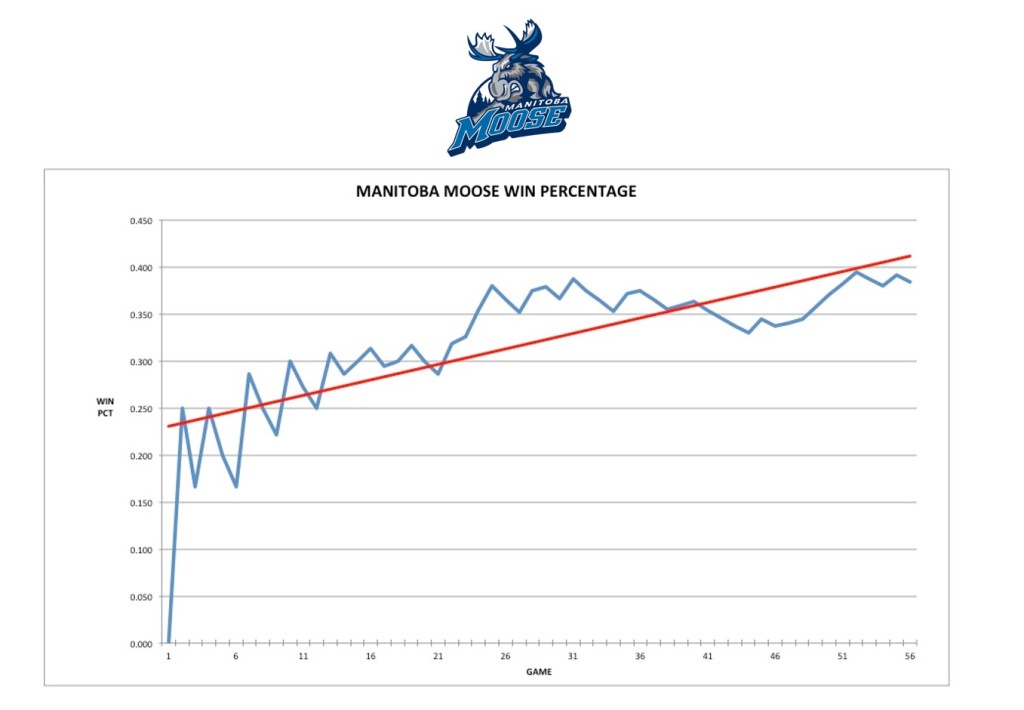 Success can be measured in many ways, but one thing is clear the Moose are working day-in-and-day-out to be better individually and as a group and that effort is paying off.
With seven of the team's 17 wins on the season coming in the last month there's reason to believe the ultimate goal of gathering points on a regular basis, while grooming talent for success at the next level, is being looked after.
The Moose face the Rampage in San Antonio Friday, March 4th and you can follow the action LIVE on moosehockey.com and TSN1290 starting with the pre-game show at 7:15pm.