Vincent ready for second season leading Moose
By: Mitch Peacock | Published: September 22nd 2017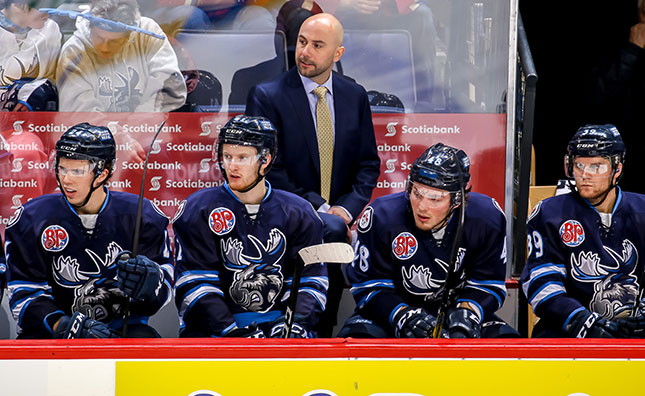 The Young Stars Tournament is over and the Winnipeg Jets are in the midst of the NHL's exhibition schedule.  That means the Manitoba Moose are days away from hitting the ice as well.
This past summer Moose bench boss Pascal Vincent went beyond studying tactics, and doing video work, to prepare himself for the challenge ahead.
FAMILY FIRST
In a business where people make a lot of sacrifices for their work, Pascal Vincent is very aware of the importance of balance.
A veteran of the hockey world, Vincent has a long track record of success in the Quebec Major Junior Hockey League to go along with his six-plus years in the Jets' organization.  His is a reputation built on exceptional interpersonal skills and a deep understanding of the game.  It's also made possible by knowing when to push and when to recharge.  That goes not only for how he deals with his players, but how he handles himself during the season and in the summer months.
This summer was no exception as he shifted his attentions homeward following a trip to France to speak to professional coaches during the World Championship.
"My primary focus was to be a dad for my daughter. During the season it's not always easy to be there as much as I'd like to be so I took that time, and opportunity, to be a dad and now I feel great. I feel like I'm recharged. I feel like we're ready (as a staff),"said the Moose head coach shortly after returning from the Young Stars Tournament. "There's a way to balance work and personal life and our way in the hockey world, in season it's a bit more difficult, but you can do a lot of great things in the summer and that's what I did."
Pascal, wife Josee, and soon-to-be seven year-old daughter Geneve are a tight-knit team and enjoyed time with family in Montreal for a portion of the off-season as well as making the most of a beautiful Manitoba summer.
But, this is about balance and that means there was work to be done for the Moose bench boss.
"For a month I didn't really work hard at watching x's and o's and the games. We've done a lot of that at the end of the season and we're going to do a lot of that this year before the season starts," said Vincent. "But what I've done, first of all I wanted to recharge the battery, first year in the American League after spending five years with the Jets – I wanted to take it all in an put myself in a position where I could reflect on the season. Look at what we've done, what's coming, and I love reading so I've been reading a lot of books."
KEY TO SUCCESS
How many books you ask?
Vincent estimated he went through a book a week, covering subjects like team success, individual development, ego, conflict management and more while taking plenty of notes along the way.
It was a reading list inspired by reflecting on a couple of areas – that first season behind the Moose bench and some time spent working with up-and-coming coaches in Quebec in early August.  Those books weren't all sports-themed, with works from the business arena and beyond on the list.
The bottom line is the Moose coach feels there's much more to his job than teaching skills, coming up with game plans, and running the bench.
"I believe the game is played 90 per cent above the shoulders and ten percent in your head (smiles). So, it's a hundred percent there (points to his head),"said Vincent enthusiastically. "If you don't have a good mindset. If your mind is not right, you can have the greatest tools in the world. You can skate like the wind and shoot the puck like a 50 goal scorer, but if the mind is not there you're not going to be able to use those tools when the game matters."
A philosophy that can apply to anyone, in any walk of life.
After all, no matter what your interests and goals are, knowing how to sort through the clutter and put your best foot forward can be the difference between reaching your potential and missing out on your objectives.
PERSONAL TOUCH
For Vincent, helping players to be their best is a process – one that starts with building relationships with the people he's working with.
"Getting to know those people, getting to know their goals, getting to understand where they're coming from, what's their background? What kind of adversities – 'cause we all do, we all have problems – what kind of problems did they face in the past? How did they manage to deal with those problems? And trying to help them," said the coach. "The only way to help someone is to get to know that person."
From there, Vincent says coaches can serve as a GPS of sorts, guiding prospects toward their ultimate destination.
"That's our goal, making sure we understand where they want to go – where they're coming from and help them, or assist them, getting there as fast as we can. But, there are things that you can't speed up. There are things that take time. It takes experience and that's what they need to understand."
It's clear as the conversation winds down that Vincent values people first, but make no mistake he sees a sharp group of individuals as the foundation for team success.
"We're talking here about character. We're talking about how you prepare yourself, being consistent with what you do. It's easy to do the right things for two weeks or three weeks but to do it for years – getting to know yourself, digging deeper a little bit – that's character. That's all a mindset and to me that's the number one thing. If you don't have that, you might be able to play professional, but I don't think you're going to have a real strong impact in the long-term. And, I don't think if a team has too many of those you're going to win any championships."
Tough to argue with that isn't it?
Fittingly, you could say Vincent has a well-balanced approach.