Vincent Excited to Continue Building
By: Mitch Peacock | Published: September 27th 2018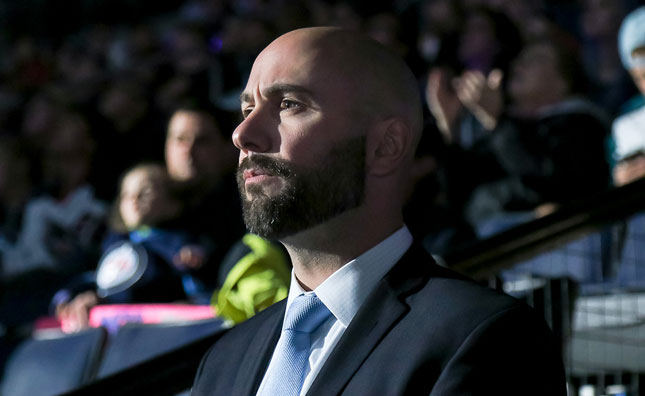 Manitoba Moose training camp is here, and, before you know it, another regular season will be here as well.  There may not be anyone more geared up to get back at it than head coach Pascal Vincent.
"I'm very excited, and the number one reason is I feel as a person – I think – you want to be in a position where you can learn and you can grow. I feel like every year (since joining the Jets' organization) – and I came from Junior where I was a coach and general manager – I've learned tons of things," said the coach earlier this week from his office at Bell MTS Iceplex. "(First) Going to the NHL and dealing with NHL players, power play guys and skill guys, and the forwards, and talking with Charlie Huddy and the coaches who have played in the NHL, seeing how Paul Maurice is around the players and dealing with different problems.  These are the things that you have to deal with on a daily basis, and then coming in here in the American League I'm really excited."
Vincent's Moose created plenty of excitement last season, spending a large portion of the regular schedule atop the AHL standings.  They were in hunt for first-place in the always tough Central Division right until the end of the campaign, eventually finishing in third with a 24-point improvement over the season before.
OUTSTANDING SEASON
The former Jets' assistant coach believes his club, and organization as a whole, built a level of confidence early in 2017-18 – starting at Development Camp and then building through the pre-season.
Vincent says it was a belief based on keeping the game simple, competing hard, and playing fast. It suggests, from the big team on down, there was a club-wide commitment to several key principles. These are building blocks each player could take responsibility for in order to make the sum greater than its parts.
Simply put, it was a united effort to ensure the group of skilled and talented athletes had a clear road map of how to get to where they want to go, and man they did it well.
How well? Of 31 NHL organizations, only the Winnipeg Jets and Tampa Bay Lightning, saw both their NHL and AHL teams advance to the second round of their respective playoffs. While the Jets reached the conference final, the Moose can take pride from playing for their division crown.
"We wanted our young players to experience the playoffs, and not only the playoffs, but the last ten games of the season have to mean something," said Pascal, emphasizing the importance of putting prospects in challenging situations and preparing them to play at the toughest times of the year.
"We also had, I'd say for the real first time since the Jets are back here, a real competition at different positions for all players.  That creates a little bit of a fear, and that fear is not bad, it's internal competition. There were a lot of things that fell into the right place that carried on during the season, and it gave us some momentum early in the season.  We carried that kind of confidence the whole year."
GROOMING FUTURE JETS
You don't have to spend much time around Pascal Vincent to know he's passionate about his craft. The Laval-product is a true student of the game, and he's devoted to doing his part to fuel the Jets' championship ambitions.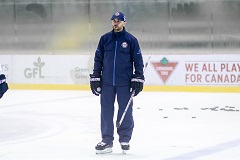 A big part of that undertaking is working with his staff to turn quality scouting and drafting into NHL-ready pros. Last season, 10 players who competed for the Jets in the Stanley Cup Playoffs had suited-up for the 2.0 era Moose.  Two players from the 2017-18 edition of the Jets' AHL affiliate were valuable contributors to the parent team at the most important time of the campaign.
"To see Jack (Roslovic) and Kyle Connor going with the Jets, and not only being there – cause you can push players to the NHL, but it doesn't mean it's going to make them winning players – but to see them contributing and helping the Jets win hockey games.  When I sit at my office, and I'm all by myself and I think about that, that's a real proud moment for me."
While Vincent is genuine in expressing that pride, he's quick to share credit with assistants Eric Dubois, Marty Johnston, and Richard Bue.  He also stressed leadership from within the players is truly vital to bringing prospects along the right way.
"Those guys (like Roslovic and Connor) were supported by Patrice Cormier and the veterans of our team, and the same thing with Blake Wheeler with the Jets. The young players could see what the captains were doing on a daily basis, and that's the best way to teach."
NEW BEGINNING
Pascal and the Moose staff know part of the assignment for AHL coaches is building on the lessons learned the season before, while also managing a roster that's likely to include a number of new faces.
It's the kind of thing that could be daunting, but instead fuels the fires for Vincent and company.
The head coach is eager to get going, and grateful for what the program can carry forward after a Calder Cup Playoff run that included getting past the reigning champs – the Grand Rapids Griffins – in a nail-biting first round series that went the limit.
"Of all the opponents we could have faced in the first round, that one was probably the toughest one, and we found a way to beat them in five (games).  So there's a lot of positives that we want to bring into this year. But, our next step is to re-establish our foundation and making sure that we go back to square one and re-establish that confidence."
If there's anything to the notion that confidence comes from believing in yourself, and from being provided the right working environment, then Vincent is sure that foundation will soon be in place with that next crop of Moose players.
"Where this organization came from, where it's going, and the path that we're on and the plan of Chevy (Jets' GM Kevin Cheveldayoff) – it's really, in our minds, it's clean and it's clear. We know where we're going, and we know what it takes to get there and that's our plan. And we keep it. We stick to our plan, and we make adjustments for sure, but we stick to the plan. The big picture remains the same."
A big picture that is easy on the eyes with talented people like Pascal Vincent doing their part.