Maturity a quality Wilson hopes to market
By: Mitch Peacock | Published: September 27th 2016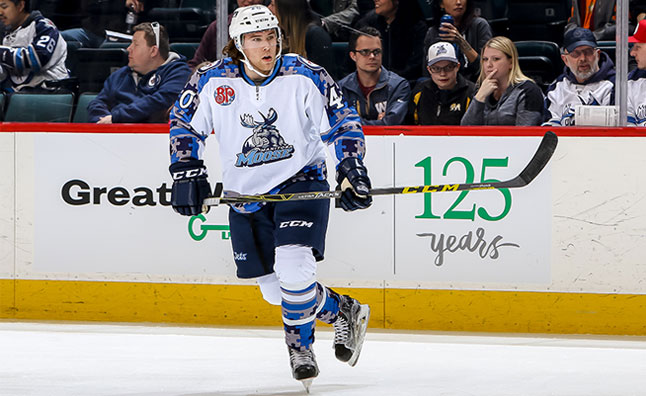 Tyson Wilson is just 25 years old. In other words, he's young when it comes in the regular work world. However, in pro hockey terms that's a fairly advanced age to be starting a pro career. He's not starting from scratch, but close to it if 'games played' is your main measure of preparation.
Wilson got into three games with the Manitoba Moose late last season before a wrist injury knocked him out of the lineup for the rest of the schedule.  The injury cost Wilson nine weeks before he was back at full strength.
Now healthy and determined to show he belongs, Wilson's an interesting participant in Jets camp these days.
MAJOR FORK IN THE ROAD
Unlike drafted players, Wilson hasn't had a clearly defined path to the pros.
After his freshman season at Robert Morris University (NCAA Divison 1), he attended Washington Capitals Development Camp and got his first glimpse of life in the professional ranks.  However, it wasn't a simple case of onward and upward from there.
Sports hernia issues (on both sides) pushed Wilson into surgery and limited him to just four games his sophomore year.  Wilson used that time to pour his energy into his recovery and his studies.
"After I got hurt I leaned towards school more – took a stronger approach towards it just cause I had no idea what was going to happen and a lot of guys have a hard time coming back from those surgeries and never feel the same again," said the defenceman after a recent training camp session.  "So – leaned more on school and my rehab and then when hockey came back around I had a better feel for school and it was easier for me and it made hockey easier for me."
Asked to clarify, Wilson explained his time management improved while juggling his physical therapy and coursework in economics, accounting, and legal studies.  When it was time to go back to practice and games, it paved the way for a steady growth in his own game.
BUILDING A CASE FOR THE PROS
After returning from injury, the 6'2" 209 pounder played a career-high 41 games and established himself as a key member of the Colonials.
He followed up that comeback season with two more impressive campaigns capped by last year's standout senior year in which he put up a personal best 27 points in 38 games to draw the attention of pro scouts and earn his chance with the Moose.
Wilson admits that he isn't young at this point hockey-wise, but says his maturity is a benefit and can help him make up ground on the competition. It's that maturity that has him keeping things simple as he aims at a playing pro for years to come.
"I want to crack the Moose lineup and try to be a regular there, obviously earn the coaches' respect, and then help the team out as much as I can in whatever role they need me in," said the Maitland, ON product before adding. "Then play hard, work hard, and take advantage of this year. Kind of take it like it's my last year of hockey every year and go all out."
The Moose open training camp October 3 and travel to North Dakota for exhibition games October 8 and 9.