Game Preview: Moose @ Checkers – Jan. 16
By: Chris White | Published: January 16th 2016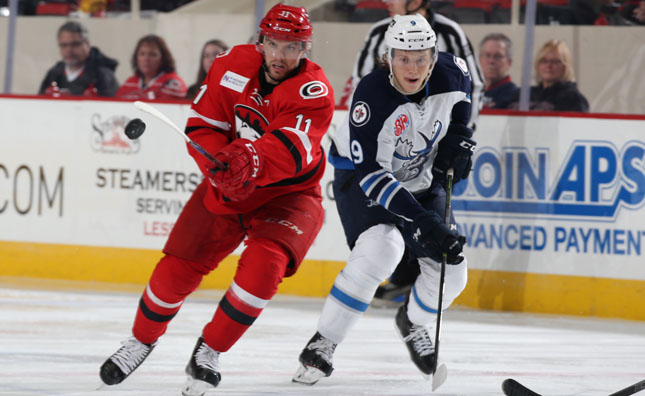 MANITOBA MOOSE@ CHARLOTTE CHECKERS
Bojangles Coliseum – Charlotte, NC
Saturday, January 16, 2016
Game 36              (11-20-1-3)
Road Game 16           (3-11-0-1)
Listen: MooseHockey.com/listenlive
Watch: AHLLive.com
The Manitoba Moose will take on the Charlotte Checkers in the third of eight meetings this season on Saturday evening at the Bojangles Coliseum in Charlotte. The Moose and Checkers are currently tied in their season series with one win apiece. Following the rematch on Sunday, these two teams will play the four remaining games of the season series in Winnipeg.
Previous Season Meetings:
The Moose and Checkers faced each other earlier this season in a pair of matches Nov. 7 & 8 at the Bojangles Coliseum. Manitoba spoiled Charlotte's home opener in the first match thanks to an outstanding performance by goaltender Connor Hellebuyck who made 30 saves for the shutout in a 3-0 win. Charlotte claimed victory in the second meeting thanks to a goal by Jake Chelios with just 25 seconds remaining in the third period to lift the Checkers to a 3-2 win.
Moose Road Trip
The Moose just finished a stretch of home games that saw the team in action with eight games in 14 nights. They will now play nearly the reverse of that and add on some miles on the trip playing eight games in 15 days. The Moose start the road trip with this pair of games in Charlotte before heading out to California where they will meet the Ontario Reign, Stockton Heat and Bakersfield Condors. This trek will take the team right into the AHL All-Star break as the Moose won't play at home again until Feb. 4 against the Toronto Marlies.
Season Series Player Leaders:
So far through two games of the season series Manitoba's JC Lipon leads all players having scored three goals in two games. What makes the three goals impressive is that one was a powerplay goal, one was a shorthanded goal and one was a shorthanded goal into an empty net. Moose forward Austen Brassard has two points with a goal and an assist along with Chase De Leo who has two assists. T.J. Hensick and Justin Shugg have the points lead for the Checkers as they have registered two assists each.
Battle in Goal:
Neither of Manitoba's current goaltending tandem of Eric Comrie and Jussi Olkinuora has faced the Checkers this season. In both previous meetings the Moose started Connor Hellebuyck, who is now playing with the NHL's Winnipeg Jets but was named to the AHL All-Star Classic made the starts. The Moose have played one game against each of Drew MacIntyre (0-1-0, 2.04, .900) and Rasmus Tirronen (1-0-0, 2.00, .889) this season. Checkers rookie goaltender Daniel Altshuller has played in nine of Charlotte's last 12 games since being recalled by the team from the ECHL's Florida Everblades on Dec. 14. Altshuller continues to lead all ECHL goalies with a 1.58 goals against average and a .941 save percentage in 14 games prior to his call-up.