Game Preview: Moose @ Reign – Jan. 20
By: Chris White | Published: January 20th 2016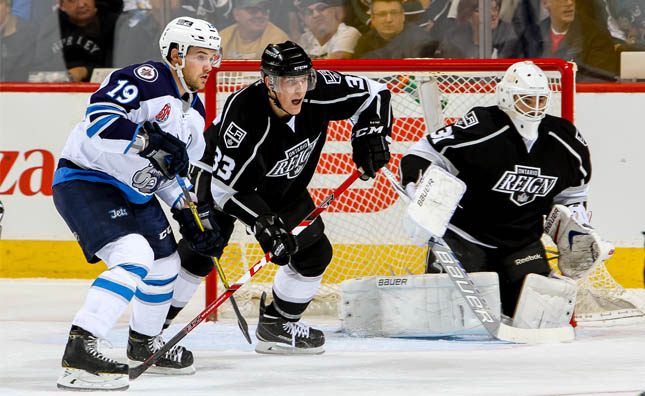 MANITOBA MOOSE@ ONTARIO REIGN
Citizens Business Bank Arena – Ontario, CA
Wednesday, January 20, 2016
Game 38              (11-21-2-3)
Road Game 18             (3-12-1-1)
Listen: MooseHockey.com/listenlive
Watch: AHLLive.com
The Manitoba Moose will face the Ontario Reign for the third time this season but will be the first time the Moose have played in California in team history. The Reign lead the season series 2-0-0-0 after sweeping the Moose in Winnipeg on Oct. 15 & 17. This two teams will face each other for the final time this season on Jan. 30 in Ontario.
Defending Champs:
The Reign franchise while in Manchester as the Monarchs last season won the Calder Cup as AHL Champions. Ontario has fifteen players on their current roster who were a part of that championship. Manchester had a 15-4 record in the playoffs and defeated the Utica Comets in the finals four games to one.
Added Help:
The Moose recalled forward Axel Blomqvist from their ECHL affiliate the Tulsa Oilers on Tuesday. The towering 6-foot-7 winger played 12 games for Tulsa where he has recorded one goal and three assists for four points since being assigned from the Moose on Dec. 18. Previous to that, Blomqvist played 10 games for the Moose this season registering seven shots and two penalty minutes.
Other Recent Moves:
Manitoba had forwards Matt Halischuk, Patrice Cormier and JC Lipon recalled to the NHL's Winnipeg Jets this past week. Lipon made his NHL debut this past Monday night against the Colorado Avalanche where he had 7:11 of ice time and registered a hit and a takeaway. Halischuk and Cormier were each called up for the second time this season.
Reign Net:
Reign goaltender Peter Budaj was a big reason for the success against the Moose earlier this season and for the team's current position in the league standings. He has started all but four of Ontario's games this season and has a league leading 1.73 goals against average and is third in save percentage at .930. In his two games against Manitoba this season he has two wins with a 0.48 goals against average and a .973 save percentage.