Moose battle back but fall in OT
By: Chris White | Published: January 24th 2016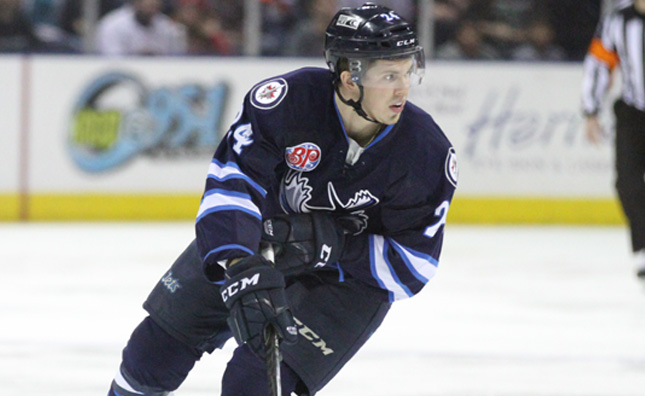 It was a similar script in the rematch against the Stockton Heat on Saturday night as it was in game one of their season series.
In the first period while on the powerplay, Scott Kosmachuk grabbed the puck from behind the Heat net and scored on the wrap around. The goal was Kosmachuk's seventh of the season.
In the second period it was the Heat who capitalized quickly.
First Kenny Agostino scored on a powerplay which brought thousands of stuffed animals to the ice as part of Stockton's Teddy Bear Toss.
Then just four minutes after play resumed Garnet Hathaway grabbed the puck from a blocked shot and went the other way and scored a shorthanded goal on a breakaway.
But for the second straight night the Moose tied it late to send the game to overtime.
This time it was Matt Fraser who scored his third of the season with just 1:18 remaining on a rebound out front with the Moose net empty.
In overtime the Moose got caught on a line change which sent Heat captain Aaron Johnson on a breakaway where he scored to give Stockton the 3-2 win.
For the second straight game the Moose had a tremendous goaltending performance, this time by Jussi Olkinuora. The Helsinki, Finland native made an AHL career high 44 saves.
The Moose will continue their California road trip by travelling to face the Bakersfield Condors for the first of two games on Tuesday, Jan. 26 at the Rabobank Arena at 9 p.m. CT.