Game Preview: Moose @ Condors – Jan. 29
By: Chris White | Published: January 29th 2016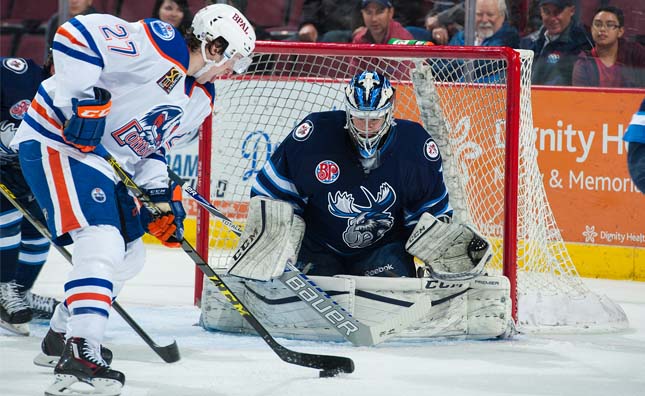 The Manitoba Moose will face the Bakersfield Condors for the second time in California and for the final time in the regular season. This is the fourth meeting between these two teams this season as Bakersfield leads the season series 2-1-0-0.
Youth Movement:
This year's Moose team is especially young with an average age of 23.2 and features a league high 12 AHL rookies on their current roster. The Moose have seven players who are just 20 years of age with 15 of the 26 players on the roster 23 years of age or younger. Conversely, the Bakersfield Condors have half as many AHL rookies at six playing on their current roster.
Familiar Faces:
The Moose will have two roster changes from the last time these two teams played this past Tuesday. First is assistant captain Patrice Cormier, who was re-assigned to the Moose from the Winnipeg Jets on Wednesday. Cormier has six goals and six assists for 12 points with the Moose this season and has had two stints in the NHL with the Jets this season where he has played in two games. Manitoba also added defenceman Aaron Harstad who was recalled from the Tulsa Oilers of the ECHL later in the day on Wednesday. Harstad has been with the Moose twice already this season where he has played eight games. The rookie defenceman has impressed during his time in Tulsa where he has two goals and six assists for eight points along with a +11 rating in fourteen games.
Return of Raffl:
Forward Thomas Raffl showed signs of once again finding his groove in the Moose lineup on Tuesday against Bakersfield. Raffl has had some tough luck with some significant injuries this season and has only dressed in 14 of the 41 Moose games so far this season. The native of Austria recorded an AHL career high two assists in the game this past Tuesday and will be counted on to be a key part of the Moose offence going forward.
Dish Master:
Forward Nic Petan also had two assists on Tuesday against Bakersfield. Petan is second on the Moose in assists with 16 despite starting the season with the Winnipeg Jets where he played 14 games. The native of Delta, BC was highly touted as a playmaker coming into his first AHL season. While in junior hockey, Petan recorded 248 assists in 252 games in the Western Hockey League with the Portland Winterhawks. Petan leads the Moose with a .73 points per game average.