Moose fall to Stars in wild shootout
By: Chris White | Published: February 11th 2016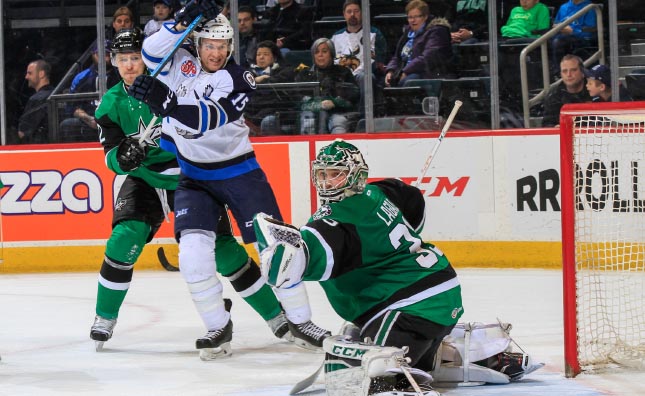 It was the "Wild West" for scoring on Wednesday night in the rematch between the Manitoba Moose and the Texas Stars at the MTS Centre.
After the Moose got up to a 3-1 lead on goals from Scott Kosmachuk, Nic Petan and Brenden Kichton, it was the Stars who then took over.
The visitors from Texas scored five consecutive goals to go-ahead and hold a 6-3 lead by the mid-way point of the third period.
The young Manitoba squad showed great resiliency by battling back with three goals in a seven minute span to tie the game.
First was a seeing-eye slap shot from Josh Morrissey which found its way to the back of the net. Then it was Nic Petan scoring his second of the game from behind the net deflecting it off the Stars defenceman.
Julian Melchiori then evened the contest with a shot from the point with just over two minutes remaining in the third period.
After overtime solved nothing, the Moose got to a shootout but that's where the Cinderella run ended.
Jason Dickinson scored the shootout winner after also posting a goal and two assists earlier in the game to give the Stars a 7-6 victory.
Dickinson was the first star in both games of this two-game series. He scored two goals on Tuesday and had a goal and two assists in the rematch.
Despite the loss, the Moose earned a well-deserved point as they battled back and had many positives to take away in the end.
Nic Petan matched a career high with three points (2G, 1A). He has 11 points (5G, 6A) in his last nine games. He is now tied for second on the Moose in scoring with seven goals and 18 assists for 25 points.
John Albert (four games) and Patrice Cormier (three games) extended their point streaks.
Petan, Brenden Kichton (1G, 1A), Thomas Raff (0G, 2A), JC Lipon (0G, 2A) all had multi-point games.
Jussi Olkinuora made his third star of the season for the Moose. He allowed four goals on 21 shots before being replaced by Eric Comrie in the third period and allowed two goals on 13 shots the rest of the way. Comrie leads the AHL in saves with 1,020 and is second in minutes with 2,012.
The Manitoba Moose will host the Chicago Wolves for a pair of games this weekend, the first on Saturday, Feb. 13 at 2 p.m. at the MTS Centre.