Wild defeat Moose
By: Chris White | Published: March 7th 2016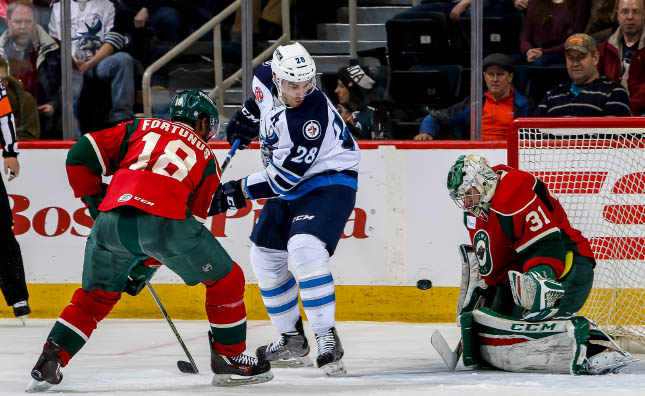 The Moose hosted the Iowa Wild on Monday night at the MTS Centre and it's becoming a common theme in the series between the two Central Division teams, the game will be decided by one goal.
This time it was the Wild who got the upper hand in a 2-1 win.
Iowa scored the game's opening goal with just 0.5 seconds remaining in the second period when Marc Hagel put a backhander past Eric Comrie.
At the start of the third period, Guillaume Gelinas took a puck off the face but benefitted by swatting the puck as it fell to his stick to give the Wild a two goal lead.
The Moose did all they could late to get back in the game as Patrice Cormier scored his 12th goal of the season during a scramble out front with 1:29 remaining, but that was as close as Manitoba were able to get.
Cormier has now scored three goals in five games against the Wild this season, the most on the Moose.
With an assist on the Cormier goal, Austen Brassard hit the 30 point mark for the first time in his AHL career. He has three goals and four assists for seven points in his last five games.
The other assist went to Chase De Leo who now has the team lead in scoring with 32 points (15G, 17A). He currently sits 18th among AHL rookies in scoring.
Eric Comrie allowed just two goals on 29 shots and was named the game's third star. It was the 27th time Comrie has made 25+ saves this season.
All five games of the season series between the Moose and Wild this season has been decided by one goal. The two teams will play once more in Winnipeg, this Wednesday, Mar. 9 at 7 p.m. and twice more in Iowa (Mar. 30/Apr. 1) in the season series.