Winnipeg Jets and Manitoba Moose Launch 2023 Hockey Fights Cancer Campaigns
By: Manitoba Moose Staff | Published: November 3rd 2023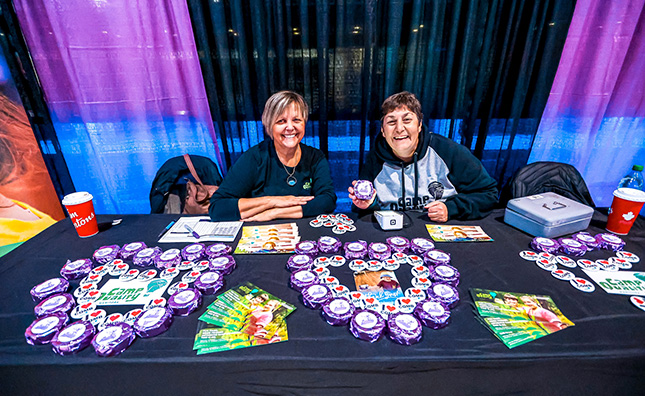 November marks the return of the NHL and AHL Hockey Fights Cancer (HFC) campaign during which the Winnipeg Jets and Manitoba Moose will raise funds and awareness for Manitoba youth living with cancer. Leading up to their HFC games – Winnipeg Jets on Tuesday, Nov. 28, and Manitoba Moose on Friday, Dec. 1 – both teams will offer various ways for fans to rally support for the cause.
Winnipeg Jets HFC campaign – Nov. 9-28; HFC Game – Nov. 28 @ 7 p.m.
 The Winnipeg Jets HFC campaign will continue to support CancerCare Manitoba Foundation's (CCMF) pediatric clinical trials which allow young cancer patients to receive crucial, life-saving treatments right here in our province.
Jets fans can contribute to raising funds by purchasing raffle tickets to win one of eight team-issued, limited edition autographed Jets HFC jerseys, and mystery autographed pucks and mini sticks in game on the concourse. Five "super pucks" will also offer two tickets to a future Jets game. Raffle tickets will be available in game and online at TNYFRaffle.com.
The remaining team-issued, limited edition autographed HFC jerseys will be auctioned off online at Auctions.NHL.com/WinnipegJets beginning Thursday, Dec. 7 through Sunday, Dec. 17 at 8 p.m. CT.
The sweetened Winnipeg Jets 50/50 draw, starting at $20,000 will be in support of CCMF at the HFC game on Nov. 28. As always, Winnipeg Jets 50/50 tickets are available in game and online at WinnipegJets.com/5050 beginning at 9:30 a.m. on every home and away gameday.
The HFC campaign honours five brave CCMF child ambassadors whose stories emphasize the impact the organization has on the lives of kids and their families going through the cancer journey. As well as sharing their personal experiences with cancer, the ambassadors will be special guests at the Nov. 28 HFC game and will participate in a ceremonial puck drop.
Manitoba Moose HFC campaign – Nov. 4-Dec. 1; HFC Game – Dec. 1 @ 7 p.m.
The Manitoba Moose HFC campaign is in benefit of Camp Quality Manitoba, a charitable organization providing camp experiences to children affected by cancer and blood disorders.
In support of this cause, the Moose will sell mystery Moose player-signed pucks at home games during the campaign (Nov. 4, 5, 12, 13 and Dec. 1, or until supplies last). Ten pucks will feature the signature of Moose alumnus Josh Morrissey and one "super puck" will win a lucky fan a Winnipeg Jets HFC jersey autographed by Josh Morrissey. Proceeds from the HFC Game 50/50 draw will be donated to Camp Quality.
The Moose will host Camp Quality Manitoba representatives and campers at their HFC game for a special pre-game ceremony. Fans can learn more about the impacts of Camp Quality on youth battling childhood cancer, through stories shared at MooseHockey.com.
Official HFC merchandise including authentic jerseys, toques, tees, and hoodies are now available at all Jets Gear stores.
Fans can learn more about the Jets HFC campaign at WinnipegJets.com/HFC.
Tickets are available at WinnipegJets.com/TICKETS and MooseHockey.com/TICKETS.
######
For more information, please contact:
About CancerCare Manitoba Foundation
CCMF funds a significant proportion of the cost for clinical trials for children and teens with cancer, making leading-edge treatments available and accessible locally. Manitoba continues to have one of the highest participation rates of pediatric trials in the country, due in large part to the significant donations the Foundation directs to this effort year after year. All funds raised by CCMF (including through the Jets' HFC campaign) stay in our province to benefit Manitoban pediatric cancer patients and their families. Visit cancercarefdn.mb.ca for more information.
About Camp Quality Manitoba
Camp Quality Manitoba facilitates a one-week overnight summer camp program, hosted at Variety's Camp Brereton in Whiteshell Provincial Park, and offers a wide range of programming for different needs and age groups. The organization also runs Community Family Programs, which are camp-style events that happen throughout the year for the entire family in and around Winnipeg. Visit campquality.org/cqmb for more information.