Checkers defeat Moose
By: CK | Published: January 17th 2016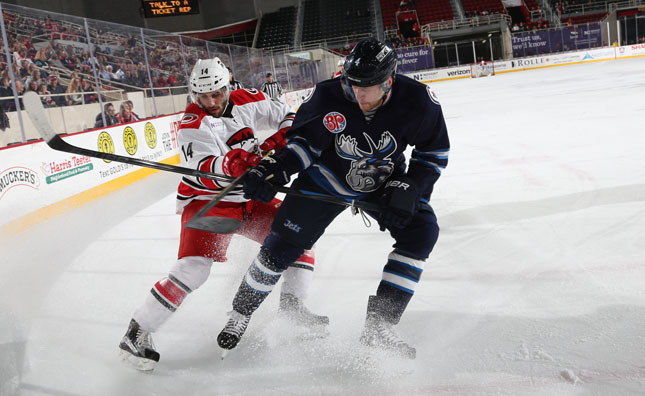 There would be no comeback this time.
After leaving the first period with a tie game thanks to a goal from Scott Kosmachuk, the Checkers were able to score three unanswered goals the rest of the way to defeat the Moose by a 4-1 score on Sunday evening in Charlotte.
The bright spot for the Moose was the goal from Kosmachuk, who used his great speed to win the race for the puck and go in and beat Daniel Altshuller over his left shoulder with just 30.4 seconds remaining in the first period.
Kosmachuk is now tied for the fourth on the team in goals with six.
That was all the young Checkers goalie would give the Moose.
Altshuller won his second straight game against the Moose making 17 saves. The former third round pick of the Carolina Hurricanes has just one regulation loss in 11 starts since being called up to the Checkers from their ECHL affiliate in Florida.
The Checkers had goals from David Wohlberg, Phil Di Giuseppe, Ethan Werek, and Derek Ryan.
Werek scored in each of the two games this weekend against the Moose and has now had at least one goal in four straight games.
Eric Comrie made 24 saves for the Moose as they were outshot 28-18 in the contest.
The Moose played the game without Patrice Cormier and JC Lipon who were recalled to the Winnipeg Jets earlier in the day.
The Checkers finish the home portion of the season series with a 3-1-0-0 record against the Moose. The final four games of the season series will be played at the MTS Centre in Winnipeg.
The Moose will now travel to California for the final six games of this road trip. Their next game will be this coming Wednesday, Jan. 20 when they face the Ontario Reign.