Comrie makes 28 saves as Moose fall to Wolves
By: Chris White | Published: November 1st 2015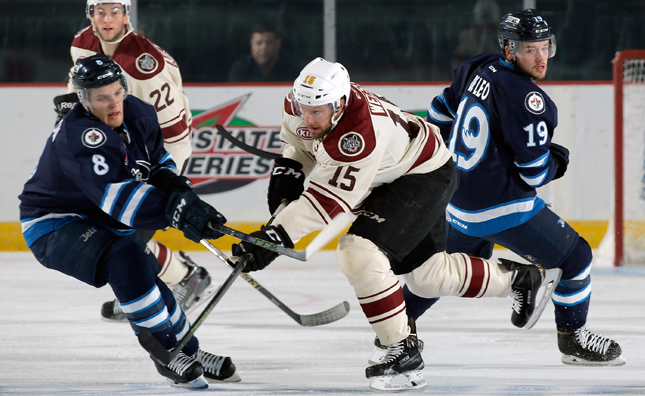 Rosemont, IL – It was a game that played out very similar to the opening match of the two game mini series between the Manitoba Wolves and Chicago Wolves.
Both times the two rivals played a scoreless first period. Both times Chicago were able to exit the second period with a 1-0 lead.
And both times the Moose played a strong road game against the division leading Chicago Wolves and were unable to take away any points.
The second period marker came on a turnover where Chicago's Pat Cannone started and finished a tic-tac-toe play for the opening goal. For Cannone, he continued his season long point streak, extending it to seven games.
In the third period Jeremy Welsh was able to intercept a pass up the middle and go in alone where he scored the game's final goal, leading the Wolves to a 2-0 victory.
Manitoba had yet another incredible goaltending performance, this time by Eric Comrie.
Comrie made 28 saves in the loss. He along with teammate Connor Hellebuyck continue to be among the league leaders in goals against average and save percentage.
Pheonix Copley recorded the shutout for the Wolves making 26 saves.
The Moose will return to Winnipeg for practice this week before heading out to face the Charlotte Checkers next weekend.  It will be the first meeting ever between the two franchises when they face next Saturday night at 6 p.m. CT. They will play the rematch at the Bojangles Coliseum Sunday afternoon at 12 p.m. CT.