Comrie named CCM Top Goaltender at Skills Competition
By: Chris White | Published: February 1st 2016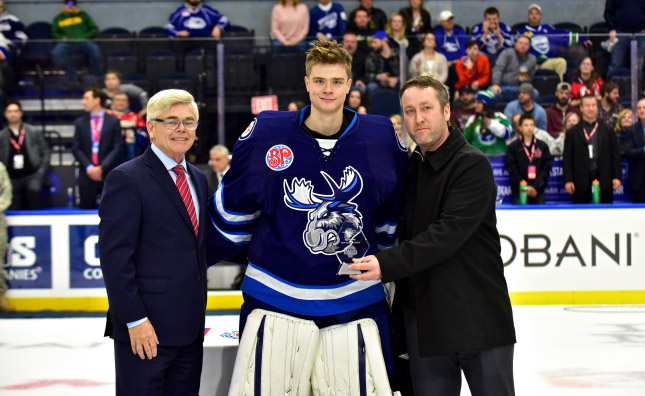 Manitoba Moose rookie goaltender Eric Comrie stopped 17 of 19 shots to help the Western Conference to a 19-14 win over the Eastern Conference in the 2016 Toyota AHL All-Star Skills Competition at the historic War Memorial Arena on Sunday evening in Syracuse, NY.
Comrie, a second-round draft pick by the Winnipeg Jets in 2013, won the CCM Top Goaltender award by turning aside nine of 10 attempts in the AHL Live Rapid Fire event, all three shots in the U.S. Army Pass and Score, and five of six in the Panasonic Breakaway Relay.
The league's mid-season showcase wraps up Monday night at 6 p.m. CT with the 2016 Toyota AHL All-Star Challenge, a round-robin tournament among the league's four divisions combining 4-on-4 and 3-on-3 play. The game can be seen across Canada on Sportsnet ONE.