Comrie spectacular in tight 3-1 loss to Marlies
By: Chris White | Published: December 5th 2015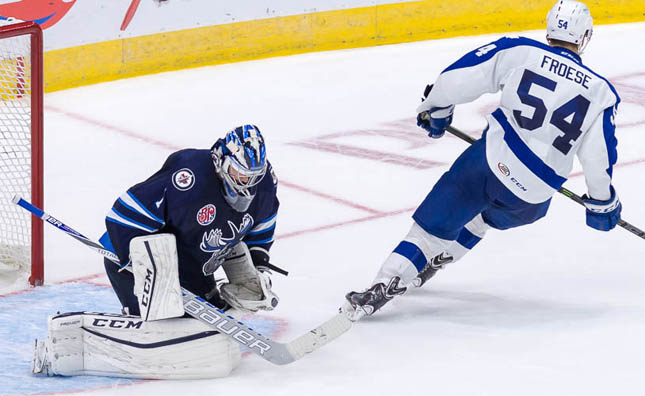 It was a long tight battle for the Moose as they traveled to Toronto for the first of two meetings against the Marlies on Saturday afternoon at the Ricoh Coliseum.
The two teams traded plenty of chances for the first two periods of the game but in the third it was the Marlies who finally broke through.
Richard Panik opened the scoring after a rebound left Moose goaltender Eric Comrie no-chance to keep the puck out of an open net.
Just under eight minutes later it was Zach Hyman who extended Toronto's lead on a great play.
Moose team captain John Albert put the team on his back with a tremendous effort to get back in the game. After dumping the puck into the Toronto zone, Albert chased after his own dump in and won the battle for the puck with the Marlies defenceman.
He then passed the puck back to Nic Petan who shot it on net. Albert and Austen Brassard drove the net jamming at the puck with the captain getting it past Marlies goaltender Rob Madore.
For Albert it was his third goal in his last three games, but that was as close as the Moose would get.
Defenceman Stuart Percy put the puck in an empty Moose net with 40 seconds remaining to secure a 3-1 Marlies win.
The loss spoiled an incredible performance by Eric Comrie who made 33 saves and was named the game's second star. In his two games against Toronto this season he has a .947 save percentage and a 0-1-1 record.
The Moose fall to 0-2-0-1 against the Marlies this season with all three games taking place on the road.
In each game against the Marlies this season the Moose have been within one goal in the last few minutes of the game. Twice the Marlies have added an extra goal into an empty net and once the Moose tied the game with the goalie pulled before falling in a shootout.
The two teams will play the rematch on Sunday afternoon at 2 p.m. CT but this time the match will shift down the street to the Air Canada Centre.