Early goals cost Moose against Monsters
By: Chris White | Published: November 25th 2015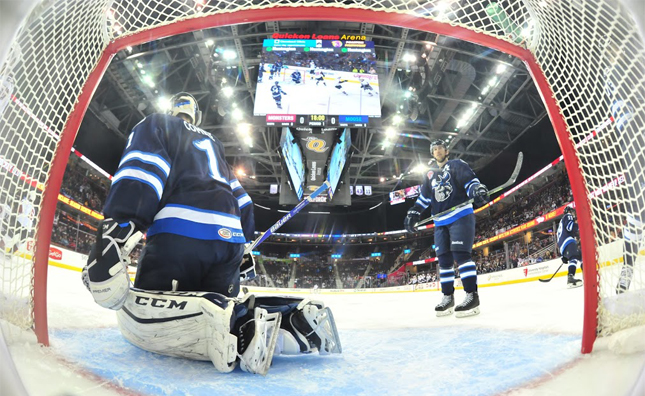 A few mistakes proved costly for the Manitoba Moose on Wednesday night when they travelled to face the Lake Erie Monsters at the Quicken Loans Arena in Cleveland, Ohio.
Lake Erie came out strong in front of their home fans leading to the opening goal just two minutes into the game by Markus Hannikainen.
The Moose settled things down but two goals just 35 seconds apart in the second period for the Monsters by Daniel Zaar and Dean Kukan put Manitoba in a big hole.
The Moose continued to show their resiliency this year as they have never given up when trailing as proved by JC Lipon, who scored his team leading sixth goal on a gutsy effort battling out front to knock in a rebound on the powerplay.
Unfortunately for the Moose they would be burnt by another early period goal to start the third period as Markus Hannikainen scored his second of the game just 41 seconds into the final frame.
Chase De Leo scored on a slick spinning backhand shot from the slot with just over 11 minutes remaining in the third but that was as close as the Moose got in a 4-2 loss.
De Leo and Lipon each had two points and both have points in consecutive games. For De Leo it was the first multi-point game of his AHL career.
Eric Comrie made 39 saves as the Monsters outshot the Moose 43-25.
Manitoba had multiple powerplay goals in a game for the first time this season going 2-for-6 with the man advantage.
The Moose and Monsters will play the rematch on Friday, Nov. 27 at the Quicken Loans Arena.