Game Preview: Moose @ Admirals – Feb. 20
By: Chris White | Published: February 20th 2016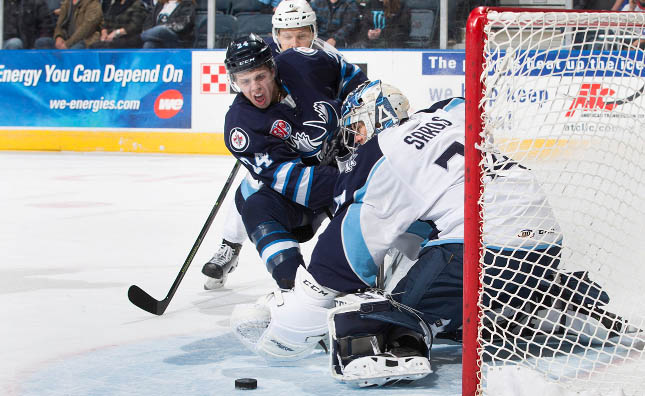 The Manitoba Moose will face the Milwaukee Admirals in the sixth of eight meetings between these two teams this season. The Moose currently lead the season series 3-1-0-1 over the Admirals. Tonight is the final time these two teams will meet in Milwaukee this regular season with the final two meetings taking place in Winnipeg on Apr. 5 & 6.
Tight Games:
In the previous four of the five meetings between these two teams the final outcome has always been determined by one goal. Only the last meeting had a winning margin greater than one and that came when the Admirals added an empty net goal with 30 seconds remaining to win 7-5. Through the first five games of the season series both teams are averaging 3.4 goals for. In one goal games this season the Moose have a record of 9-3-4-5 including a road record of 3-1-2-2. Conversely when the margin of victory is greater than one the Moose have a record of 6-24.
Moose Coming In:
The Moose enter tonight's game having won their last three games including a 3-2 win last night over the Rockford IceHogs. Previous to that the Moose defeated Rockford 5-2 in the opener of the series on Wednesday and Manitoba also defeated the Chicago Wolves last Sunday at the MTS Centre. Manitoba has earned at least a point in six of their last seven games posting a 3-1-2-1 record.
Lipon's Hot Streak:
Forward JC Lipon keeps on rolling in his third season in the AHL. He scored his 11th goal of the season last night in Rockford which puts him in a tie for second on the team in goals. The goal was Lipon's third shorthanded goal of the season and is now tied for fifth all-time in franchise history for shorthanded goals in a season. Teammate John Albert has the all-time franchise record scoring six shorthanded goals during the 2013-14 season. The goal also extended Lipon's point streak to four games. He has three goals and eight assists for 11 points in his last six games. He is second on the team in scoring with 11 goals, 17 assists for 28 points.
Kosmachuk's Goals:
Forward Scott Kosmachuk scored his 11th goal of the season during the first period of last night's game. He is now tied for second on the Moose in goals scored this year along with JC Lipon. Only rookie Chase De Leo has more with 14 on the season.